Vault of Simpsonology
Wikisimpsons - The Simpsons Wiki
The Vault of Simpsonology is a book series featuring the characters of The Simpsons that began with Homer Simpson's Little Book of Laziness, released on September 3, 2013. The books are published by Insight Editions; the books holding similarities between themselves and the books published in The Simpsons Library of Wisdom. The planned books Homer erotic: The Simpsons Guide to Love and Romance, The Simpsons: Better Business the Springfield Way, Principal Skinner's Survival Guide for School and Home, Bart and Lisa Simpson's How to Drive Adults Crazy (And Other Fun Stuff), Professor Frink's Improbable World of Tomorrow, Homer Simpson's Manliness Manifesto was never released.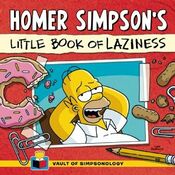 Released on September 3, 2013

Few men have reached the very pinnacle of apathy quite like Homer Simpson. His epic inertia is an example to us all. Now, for the first time, Homer reveals the secrets behind his extraordinary ability to get absolutely nothing done. From tips on how to avoid working at work to Homer's suitably slapdash design for his "Lazy House of the Future," this ode to the joys of sloth shows a true American idle at his lazy best. Also covering Homer's lackadaisical take on classic art, his indispensable tips on lethargic eating, housework avoidance, and many more sluggish subjects, Homer Simpson's Little Book of Laziness is a must-read for ne'er-do-wells everywhere. Packed with inserts and special features, such as an eight-page pullout Sloth Man comic and a foldout "Anatomy of a Layabout" feature focusing on fellow lazybones Barney Gumble, Homer Simpson's Little Book of Laziness is absolutely bursting with inactivity.[1]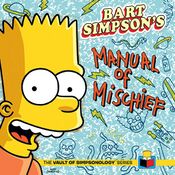 Released on March 18, 2014

Bart Simpson is truly the unrivaled master of mischief. Amateur pranksters around the world take their tips and learn their tricks from Bart, the sneakiest of sneaks. The nightmare of every sister and the destroyer of a calm composure for every grown-up, this clever kid knows how to push everyone's buttons and get away with it all. Now Bart shares his mischievous secrets with the world, from the contents of the perfect spy kit to the ideal methods of agonizing annoyance. Packed to the brim with inserts and special features, including removable "Sneaky Hall of Fame" cards and a booklet on the complete art of the prank phone call, "Bart Simpson's Manual of Mischief" includes everything you need to become a true technician of trouble.[2]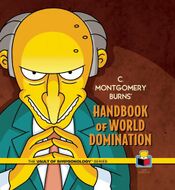 Released on September 9, 2014

Does power corrupt? Absolutely! Does the hunger and lust for absolute power course through your icy blue veins? Do you feel the need to rule the world with an iron fist? To subjugate the masses with a whimsical snap of your fingers? To rise above the insolent and unworthy with your superior intelligence and unlimited supply of cold hard cash? Have you ever wondered if there was a simple step-by-step guide for following your impulses and instincts toward world domination? You've come to the right place. Here is the opportunity of a lifetime—the chance to turn your sociopathic needs into bloodthirsty greed! Now you can learn at the feet of the Master of Megalomania . . . Charles Montgomery Burns! Don't just stand there, you sniveling slugabed. Purchase this portable periodical posthaste and leave your conscience at the cash register![3]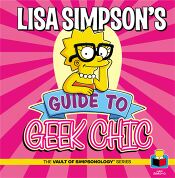 Released on March 17, 2015

In Lisa Simpson's Guide to Geek Chic, Springfield's most sensitive student reveals the secrets of being a misunderstood geek goddess. The geeks have inherited the earth . . . And Springfield's most outspoken and overlooked middle child, Lisa Simpson, is here to tell you why! So what does it matter that you don't run with the popular crowd? You control the trends and tastes of popular culture. Who cares if you aren't part of a clique? Your idiosyncratic style is now très chic. So what if you're not very social? You're tech savvy drives all social media. There's no need to lay low in nerd anonymity. You are the smartest person in the room, and it's time to fulfill your dork destiny![4]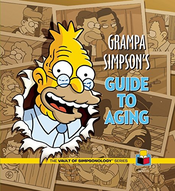 Released on September 8, 2015

From the forgetful patriarch of the Simpson family himself comes Grampa Simpson's Guide to Aging, a handbook that contains invaluable insight on living to a ripe old age. This hilarious book is packed with complaints about everything and anecdotes from Grampa Simpson's wild past, such as his recollection of World War II experiences and stories about Homer's childhood. Some of them might even be true! With tips on parenting, romance, and more, Grampa Simpson's Guide to Aging is the ultimate authority on antiquated thinking.[5]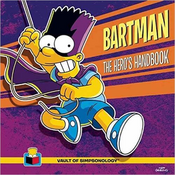 Released on March 8, 2016

In the sixth volume of the Vault of Simpsonology series, Bart Simpson—as his alter-ego Bartman—gives advice on how to be the ultimate superhero.[6]
References
[
edit
]
External links
[
edit
]