The Complete Eleventh Season
Wikisimpsons - The Simpsons Wiki
The Complete Eleventh Season
DVD Information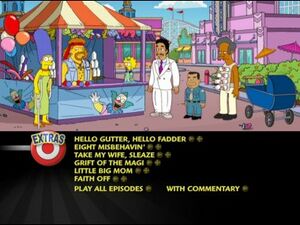 The Complete Eleventh Season of The Simpsons was released on the 7th October 2008 for Region 1, the 6th October 2008 for Region 2 and the 6th November 2008 for Region 4. The box, like most other box sets, came in two different editions. The limited edition set had a Krusty the Clown head shaped box and the regular box has a picture of Krusty on it. This is also the first box set to feature the head of a character who is not a Simpson. Inside the box is card which has been multiply folded. You unfold it to get the discs out. The booklet inside the box set has returned to its large side last seen in The Complete Sixth Season. The discs are located in sleeves in the card which you have to pull out and slide back in. The spine features the heads of Hans Moleman and Mr. Teeny on one side and Sideshow Mel and Sideshow Bob on the other. The theme of the box set is the Simpsons visiting Krustyland.
Disc Features
[
edit
]
Bonus Features
[
edit
]
Introduction by Matt Groening
Audio Commentaries on all 22 episodes
Deleted scenes with optional commentaries
Sketch Gallery
Animation Showcases
Extra: "Then Then There Were Minus"
Featurette: "The Many Faces of Krusty"
Featurette: "A Star In Hollywood Boulevard"
Special Language Features
Easter Eggs
[
edit
]
A glimpse of The Simpsons ride in Universal Studios. You find this by pressing up on the Disc 4 main menu which makes a question mark appear in the orange tent and then click on the question mark.
Hidden deleted scenes for the following:
This is the first one to use a new cover art featuring only 1 character.
In the scene selection sub menus for episodes, soundbites of the Treehouse of Horror Variant for Gracie Films can be heard. The same can be said about Sideshow Bob's laughter.