User:Solar Dragon/Future
Wikisimpsons - The Simpsons Wiki
| | |
| --- | --- |
| | This page is intended to be mainspaced. Anyone can edit it and get it mainspace worthy. Once it is complete, or complete enough, you can move it to the mainspace. |
| | |
| --- | --- |
| | The contents of this article or section are considered to be non-canon and therefore may not have actually happened or existed. |
There have been different futures featuring the Simpson family with most of them being different to each other.
Futures
[
edit
]
Lisa's Almost Gets Married
[
edit
]
In this future, a 23 year old Lisa meets an English man called Hugh Parkfield in university and they fall in love and almost get married. Bart is a 25 year old demolitions expert and Maggie is a 16 year old teenager who never shuts up. Homer still works at the Springfield Nuclear Power Plant, although Milhouse is now his supervisor. When Hugh tells Lisa that they're going to move back to England together and not see her family much any more, Lisa calls off the wedding.[1]
Lisa Becomes President
[
edit
]
In another future, Bart and Ralph were musicians in a failing band and were struggling to get by. Lisa, however, was the first straight female President of the United States. Milhouse is a Cabinet member and still in love with Lisa. Kearney works for the Secret Service, and is Lisa's bodyguard. There was a huge crime wave in the US and the country became broke and relied on foreign aid. Bart eventually got evicted from his house and moved into the White House to mooch off the taxpayers.
Bart causes nuisances around the White House and Lisa becomes angry at him. When all the countries that the US borrowed money from demand their money back, Bart comes in and talks everyone into letting them pay it back later.[2]
The Kids Have Kids
[
edit
]
In a future predicted by a machine Professor Frink built, eight years later than the present, Bart and Lisa are both graduating high school, with Lisa graduating two years early. Lisa goes to prom with a muscular Milhouse as he saved her from a house fire that he caused. Bart is in love with a girl called Jenda and proposes to her, although she turns him down. Meanwhile, Marge got separated from Homer after he spent all their money on an underwater house.
Bart gets a job at the Kwik-E-Mart and makes a delivery to Mr. Burns, who is then robbed by Snake. Bart knocks out Snake and Mr. Burns rewards Bart with a Yale University scholarship, which was previously promised to Lisa. Bart accepts it, thinking that it'll help him win Jenda back. At this point, Krusty is now dating Marge and he and Homer get into a fight.
Jenda does take Bart back but then Bart uses the machine to see what Lisa and Milhouse's life will be like together in the future, since Lisa decided to get together with him. Their marriage is going nowhere and Milhouse sells all his bone marrow to pay for the electric bills. Seeing this, Bart gives his scholarship back to Lisa and Jenda dumps him again. Marge eventually takes Homer back after he gets beaten up by Krusty.[3]
Several years pass and several things happen. Bart and Jenda get married and have two kids; Kirk and Picard. They eventually get divorced again though. Milhouse loses his muscles and he and Lisa to get together and have a child, Zia. Maggie is also heavily pregnant and part of a band touring in London. Bart later finds out that Jenda had gotten remarried and got depressed over that and both Bart and Lisa don't think their kids respect them.
Homer, Kirk and Picard head to the Cryogenic Facility to find Abraham Simpson who was frozen here until a cure for a disease he had was found. The cure had been found but no one told him because cryogenics was cheaper than a home for him. Homer teaches Bart's kids that they should love their father and even though he seems bad now, they will grow up to realize that they love him a lot. Bart then comes and makes up with his kids and they all go home when Maggie turns up after having had a baby girl.[4]
Later on, Homer dies and is replaced by a clone of himself. Each Homer clone dies and keeps getting replaced until there are no clones left. Homer is then uploaded into technology and can move around devices. Milhouse had also died at some point and had become a zombie, with Lisa still married to him. Meanwhile, Bart was dealing with custody issues with his ex-wife Jenda.[5]
Simpson family
[
edit
]
Springfield citizens
[
edit
]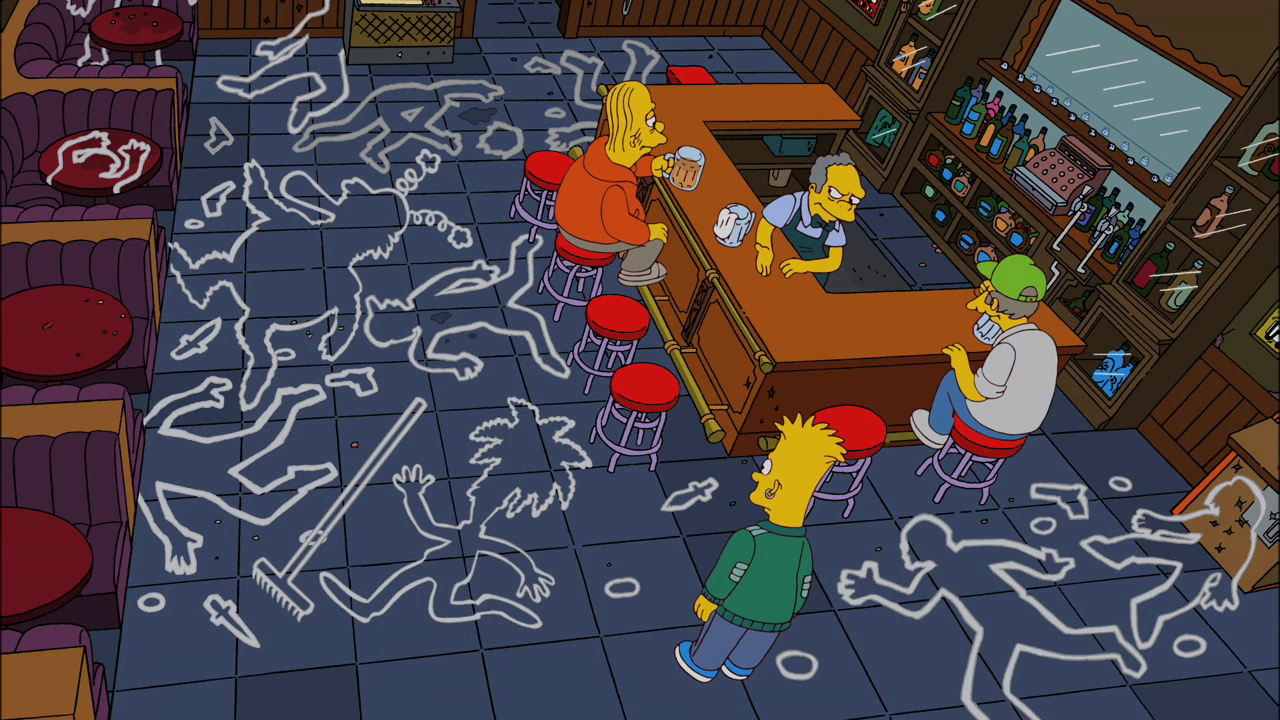 Around Springfield
[
edit
]
Earth put a man on the sun.
Aliens are seen living on Earth peacefully.
Shrink rays have been invented.
Martians have been discovered.
Cloning is accessible to people.
Hover cars are in common use.
Cryogenic freezing is accessible to freeze ill people.
It is now illegal to strangle one's own children, thanks to "Homer's Law".
Prince Harry has risen to power, become a ruthless tyrant and reinstated capital punishment in the form of beheading.
Trees are revealed to be alive.
The night sky is now used as advertising space, as the stars are rearranged to spell out ad slogans. Two advertisers seen using this medium are Buzz Cola and Cookie Kwan (whose slogan is now "#1 in the western sky").
While the Internet still exists, many people (including Zia Simpson) go online via the Ultranet, a virtual reality environment that people connect to by plugging cables into ports on their necks.
Teleporting is now the most common method of travel, but some medical conditions, such as pregnancy, preclude it. Also, if you talk while being teleported, people on the receiving end can hear you.

Bart's sons go to his apartment by teleporter. Before they arrive, Bart hears them complaining about having to spend Christmas with him.
In London, Maggie is denied access to the teleporter due to her pregnancy, and is forced to take an airplane flight to Springfield.

People can get messages sent direct to their brains, called B-Mail. Viruses sent via B-Mail can cause seizures.
Some people can hear thoughts. It is unknown if they hear them all the time or if it's at will.
Shape-changing tattoos now exist, evidently based on holograms or similar technology. Zia has one on her left upper arm.
Bart's Story of Childhoot to Adulthood
[
edit
]
Appearances
[
edit
]
References
[
edit
]
---