Simpsons Illustrated
Wikisimpsons - The Simpsons Wiki
This article is about the 2012 series by Bongo Comics Group. For the 1991 series by Welsh Publishing Group, Inc., see Simpsons Illustrated (Welsh Publishing Group, Inc.).
Simpsons Illustrated
Comic Series Information
| | |
| --- | --- |
| First published: | February 1, 2012 |
| Last published: | January 25, 2017 |
| Publisher: | Bongo Comics |
| Number of issues: | 27 |

Simpsons Illustrated was a comic book series featuring reprints of Simpsons Comics stories, published Bongo Comics.
Issue
Title
Stories
Release date
Simpsons Illustrated 1 (Bongo Comics)
Lo, There Shall Come... A Bartman!!
...The Permanent Record Room!
Hill of Beans
February 1, 2012
Simpsons Illustrated 2 (Bongo Comics)
Simpson/Sideshow Sibling Smackdown
Planet of the Strange-O's
Flu Shot
Bart Gets Stumped
May 2, 2012
Simpsons Illustrated 3 (Bongo Comics)
Homer's Run
Stink & Stinkability
The Agony and the Ectoplasm
August 1, 2012
Simpsons Illustrated 4 (Bongo Comics)
Little Shop of Homers
Apu on Rigel 7
The Cask of Amontilla-D'oh!
October 31, 2012
Simpsons Illustrated 5 (Bongo Comics)
The Paper Chase
The Dickens You Say
I'm Rubber, You're Glue
January 30, 2013
Simpsons Illustrated 6 (Bongo Comics)
Merchants of Vengeance!
The Secret Life of Bart Simpson
Holy Cow!! Has Pie Man Turned Evil?
Bartzilla
April 1, 2013
Simpsons Illustrated 7 (Bongo Comics)
Ned the Simpson
Lisa Goes to Camp
The Uter Bomber
Dial "M" for Milhouse
July 31, 2013
Simpsons Illustrated 8 (Bongo Comics)
Laughter is the Worst Medicine
A League of Their Own
The Maggie & Moe Mysteries!: M is for Zirconia!
October 30, 2013
Simpsons Illustrated 9 (Bongo Comics)
Lisa in the Middle
Maximum Bart!
Captain Cupcake and Pieboy!
January 29, 2014
Simpsons Illustrated 10 (Bongo Comics)
The Buck Stops Everywhere
Spree for All
Scaredy Cats
March 26, 2014
Simpsons Illustrated 11 (Bongo Comics)
Homer's America
Cyrano de Bart
Nerds of Prey
Kwik-E-Bart
Do the Copyright Thing
June 4, 2014
Simpsons Illustrated 12 (Bongo Comics)
Feud, Glorious Feud!
Trimming the Hedges
Metal As Anything
Computer Hackles
July 30, 2014
Simpsons Illustrated 13 (Bongo Comics)
Hell-o-ween
The Pygmy Elixir
Ring Around the Simpsons
October 1, 2014
Simpsons Illustrated 14 (Bongo Comics)
All Fired Up
Bart Does Something Fishy!
Cross Country Clown
December 3, 2014
Simpsons Illustrated 15 (Bongo Comics)
Sandwiches Are Forever
Easy Writer
VSI: Valentine Scene Investigators
February 4, 2015
Simpsons Illustrated 16 (Bongo Comics)
Uncle Burn$
Hog Tied
The Disappearing Duchess!
April 1, 2015
Simpsons Illustrated 17 (Bongo Comics)
The Simpson Family Circus
Ralph Learns a Lesson
Bartless on a Tuesday
June 3, 2015
Simpsons Illustrated 18 (Bongo Comics)
Hail to the Cat
Bart vs. Bart 2
Angry Dad in "The Roller Skate"
Chili Chili Bang Bang
July 29, 2015
Simpsons Illustrated 19 (Bongo Comics)
The Simpsons Comics Internationale!
Bartmanga! Featuring Robartman!
Cooking with Kang and Kodos
September 30, 2015
Simpsons Illustrated 20 (Bongo Comics)
The Duffman Cometh!
Lisa Simpson's Bee-lieve It or Not
Bartzan and the Ancient Forbidden Golden City of Gold!
The Case of the Hanging Shoes
December 2, 2015
Simpsons Illustrated 21 (Bongo Comics)
Know It All in the Family
Picture Day
Attack of the 50-Foot Maggie
January 27, 2016
Simpsons Illustrated 22 (Bongo Comics)
Bowl Me Over
The True Origin of Radioactive Man
The Simpson Project
March 22, 2016
Simpsons Illustrated 23 (Bongo Comics)
Day of the Nerd
Homer vs. the Raccoon
Homer vs. the Raccoon II
The Abominable Dr. Colossus
The Great Train Wreck
May 25, 2016
Simpsons Illustrated 24 (Bongo Comics)
In the Swim
I. C. S. I. (Ice Cream Scene Investigators!)
Moron Kombat!
Heatie Jeebies
July 27, 2016
Simpsons Illustrated 25 (Bongo Comics)
Power Plants vs. Zombies
Cthulhu? Gesundheit!
Murder, He Wrote
September 28, 2016
Simpsons Illustrated 26 (Bongo Comics)
Yes, Flanders, There is a Santa Claus
Freezer Burns
Hibernatin' Homer
Kiss Me, Bart Simpson!
Everybody Loves a Parade
November 30, 2016
Simpsons Illustrated 27 (Bongo Comics)
Hotfoot in the Park
Fort Knocks
Hot Air Buffoon
January 25, 2017
Unreleased
[
edit
]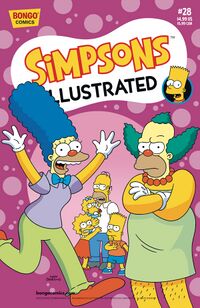 Simpsons Illustrated #28 was intended to be released in April 2017. However, it got cancelled.[1]
References
[
edit
]