The Fat Blue Line/References
Wikisimpsons - The Simpsons Wiki
Cultural references
[
edit
]
The episode title is a reference to the UK TV series The Thin Blue Line.
The couch gag is a recreation of a segment from the 1985 Live Aid Queen concert: Homer is Freddie Mercury, Lisa is John Deacon, Marge is Brian May, Bart is Roger Taylor and Maggie is the producer.
The San Castellaneta Festival and Ignatius Castellaneta were named after Dan Castellaneta, voice actor for Homer Simpson and other characters, and it's a homage to Italian festivals in Boston.
Fat Tony's uncle said that he came to the country for Burning Man.
Mayor Quimby said that the San Castellaneta Festival does not celebrate Christopher Columbus.
Patty and Selma mentions Aquaman to Jason Momoa, the actor playing Aquaman in the 2018 film, and Jason gets in character announcing the following event for it. At the end of his segment in the festival, Jason leaves by sea.
Jason Momoa said that boob signing will take place in the Marriott hotel.
During the scene with the statue of Jesus Christ, a remix of the theme from Stargate SG-1 is heard. Jason Momoa played Ronon Dex in Stargate Atlantis.
Mayor Quimby calls Jason Momoa "Wet Panther", a reference to the Marvel superhero Black Panther.
On Channel 6 News, Kent Brockman references the nursery rhyme "Peter Piper".
The "Where's Wallet?" headline is a reference to Where's Wally?.
Chief Wiggum watches Wheel of Fortune.
Chief Wiggum said that he needed the remote to change to Access Hollywood.
Lenora Carter calls Lou and Eddie "Riggs and Murtaugh, characters from Lethal Weapon.
During Homer's butt sequence, the song "Bootylicious" by Destiny's Child plays.
During the scene of Chief Wiggum and Ralph acting like elephants, "Baby Elephant Walk" by Henry Mancini plays.
Kent Brockman calls Fat Tony the "wolf of wallet street", a reference to The Wolf of Wall Street.
Fat Tony sings "I'm Still Here" by Stephen Sondheim, from the musical Follies.
In Luigi's, "Don't Stop Believin'" by Journey plays.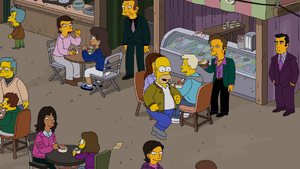 Continuity
[
edit
]
While Homer is enjoying the festival, in one shot, Legs is missing his pupils.