San Castellaneta Festival
Wikisimpsons - The Simpsons Wiki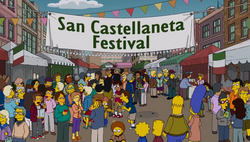 The San Castellaneta Festival is an Italian-themed festival celebrating Ignatius Castellaneta.
History
[
edit
]
The Simpson family went to the San Castellaneta Festival. During the festival, Homer ran around the food stalls eating. Shortly after he finished, Jason Momoa came on stage and told the story of Ignatius Castellaneta, who the festival was named after. He explained that it was because of the story that they ate spumoni at the festival.
After Momoa finished, a statue of Jesus Christ came out, which people were supposed to stick money onto. However, a pickpocket had been around and taken everyone's wallets.
Attractions
[
edit
]
Attractions include:
Behind the Laughter
[
edit
]
The festival is named after voice actor Dan Castellaneta.
Appearances
[
edit
]