101 Mitigations/Gags
Wikisimpsons - The Simpsons Wiki
Billboard gag
[
edit
]
Blackboard gag
[
edit
]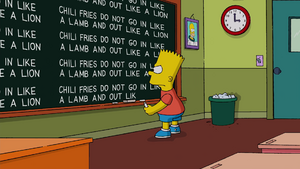 Chili fries do not go in like a lamb and out like a lion.
Couch gag
[
edit
]
"101 Mitigations" couch gag
Couch Gag Information
The Simpson family arrives on the couch as cups, with cup fillers on top filling them. Duff Beer for Homer, Diet Buzz for Marge, lemonade for Lisa, Baby Buzz for Maggie and Buzz Cola for Bart. Homer's cup overflows and he falls on the floor, saying "Refill".
Appearances
[
edit
]
Characters
[
edit
]
Locations
[
edit
]