'Tis the 30th Season/Gags
Wikisimpsons - The Simpsons Wiki
649
"'Tis the 30th Season"
Title screen gag
[
edit
]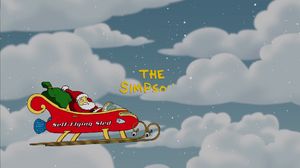 Santa Claus flies by on a Self-Flying Sled and says "Ho ho ho!".
Blackboard gag
[
edit
]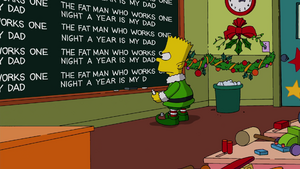 The fat man who works one night a year is my dad.
Couch gag
[
edit
]
"'Tis the 30th Season" couch gag
Couch Gag Information
Marge, Lisa, Maggie and Bart are upside down on the ceiling. When wampa-Homer comes to attack them, Bart uses the force to grab the light saber and cut its hand. The monster reattaches it and hugs Marge, and they all say "Merry Christmas", and then the wampa's hand comes off once again.
Appearances
[
edit
]
Characters
[
edit
]
Locations
[
edit
]
---