FBI
Wikisimpsons - The Simpsons Wiki
FBI may also refer to the French Bureau of Investigation.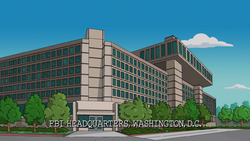 The Federal Bureau of Investigation, often abbreviated to FBI, is a governmental organization. It is an agency of the United States Department of Justice that serves as both a federal criminal investigative body and an internal intelligence agency.
History
[
edit
]
After Lisa's accusations about Bob Arnold accepting bribes, an FBI sting operation was put under way, watched from the F.B.I. Headquarters. The sting operation was successful in catching Arnold accepting a bribe and they arrested him.[1]
Mr. Burns hired two FBI agents, Bill Gannon and Joe Friday, to track down Mona Simpson and arrest her. They were unsuccessful in catching her.[2]
Dana Scully and Fox Mulder, two FBI agents, came to Springfield to investigate the alien rumors. They were disappointed to find it was just Mr. Burns and thought it was their worst case ever.[3]
Homer was sent undercover to Burns' manor by the FBI to find the 1 trillion dollar bill. However, Homer gets moved by a speech Mr. Burns makes and knocks out both Agent Miller and Agent Johnson and they run off.[4]
They were investigating Fat Tony and asked Homer to go in undercover. He became known as Nicky Bluepants Altosaxophony and became close to Fat Tony. The FBI went in to arrest Tony when he had a heart attack after realizing that Nicky was a spy.[5]
When Homer creates a new show, the Phuntime Phunky Phour, at the Razzle Dazzle's Pizza-Tainment Palace, the FBI intervenes stopping it and closing down the pizzeria due to it being used as a front for drug trafficking, using the animatronics for holding cocaine, arresting Gil Gunderson and taking away the animatronics.[6]
Employees
[
edit
]
Appearances
[
edit
]
References
[
edit
]