Flaming Moe's/References
Wikisimpsons - The Simpsons Wiki
Cultural references
[
edit
]
The song "Flaming Moe's" is a parody of the theme from Cheers.
Both names ascribed to the drink (Flaming Homer and Flaming Moe) are similar to terms for a stereotypical homosexual (flaming homo and flaming 'mo, respectively).
The knockoff's of Flaming Moe's that spring up overnight include Flaming Meaux, Flaming Moe's pushcart, and Famous Moe's.
The gang at Flaming Moe's include: Lenny, Carl, Barney, Krusty, Dr. Nick, Princess Kashimr, Ned and Maude Flanders, Jasper, Otto, Ms. Krabappel, Kent Brockman and Barney again.
A sign behind the bar reads, "Bartenders do it "till ya barf".
Maggie says Moe in this episode - in Homer's hallucination. Whether or not, it counts as her first word is up to you. Note that she also said It's your fault I can't talk! in "Bart vs. Thanksgiving" (in Bart's nightmare).
A bowie knife, a glass eye, a troll doll and the cough syrup are in the Lost and Found box.
Underneath the floorboards at Lisa's slumber party is a pipe labeled lead and insulation labeled Asbestos.
At dinner, Lisa asks Marge if she can have a virgin Moe instead of milk. It's implied that all of the ingredients in a regular Flaming Moe are alcoholic except for the cough syrup, thus, a virgin Moe would consist solely of cough syrup.
Continuity
[
edit
]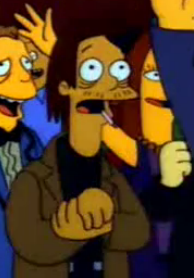 Herman Hermann is seen with two arms.

It could be possible he's wearing a prospectic arm.

Bart is holding a brown bottle in his left hand and a white bottle in his right hand, when the camera comes back to him the bottle colors are reversed.
In the same scene involving Herman's two arms, Lance Murdock has brown hair.
---