Growing Up Springfield
Wikisimpsons - The Simpsons Wiki
"Thirty-two years ago I interviewed a group of Springfield school-children. These children ran the gamut of society: rich and poor, black and white, "he'll grow into his looks" and "forever hideous." Every eight years I revisited those children, creating a cinematic chronicle of their lives. Join me, won't you, to see dreams dissolve like a muffin in the rain, in: Growing Up Springfield!"
Growing Up Springfield
Movie Information

Growing Up Springfield was a documentary produced by and starring Declan Desmond.
History
[
edit
]
Growing Up Springfield was started by Declan Desmond at Springfield Elementary School. He followed many of the students there from the age of eight, to the age of forty. Every eight years, Declan revisited the subjects of the documentary to see how their lives had changed.
Stories
[
edit
]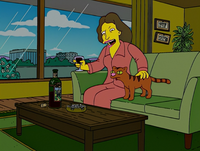 At the age of eight, Eleanor Abernathy wanted to become a lawyer and a doctor, because a woman can do anything. At the age of 24, Eleanor had graduated from Harvard Medical and Yale Law schools. She had become a successful lawyer and doctor, often needing to perform both jobs on the same day. At age 32, Eleanor had become burned out from her double jobs. She had taken up drinking, which she did with her pet cat, Buster. Eleanor also mentioned that she might get a second cat. At the age of 40, Eleanor had become the Crazy Cat Lady and threw her cats at Declan as he was filming her.
At the age of eight, Jonathan Frink wanted to be a rocket scientist. In the present, Frink had become a scientist who had discovered and cured Frink's Disease, created the element Frinkonium, and invented the eight-month-after pill. However, Frink was sad because he had never spoken to a girl. Therefore, he created the Chrono Trike, which would allow him to go back in time and tell his younger self not to become a scientist. Frink then pedaled the Trike and disappeared.
At the age of eight, Lenny drew a dinosaur at school. He told Declan how he wanted his cake at his birthday party to be a dinosaur, and the guests at the party would tell him that it was a fine cake. Declan then decided not to waste any more film on him. At the age of 40, Lenny went to Declan again for his segment. Lenny told Declan that he never tried the new shampoo he was considering trying, and that Declan could watch him pay his cable bill. Declan refused and Lenny walked away.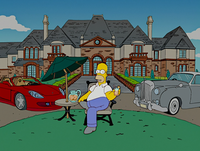 At the age of eight, Homer gave Declan a list of what he wanted when he grew up. Declan then told Homer that he wasn't a genie. Declan told Homer that his dreams would take a lot of money, then struggled to get Homer to look at the camera, eventually using a squeaky toy to get his attention. At the age of 24, Homer had begun selling manure whilst also asking questions for infomercials, having a one-man garage band, and doing caricatures at open casket funerals. Homer had also gotten together with Marge during that time. When Declan asked Homer if they were considering children, Homer scoffed at the idea. Eight years later, at the age of 32, Homer and Marge had two children; Bart and Lisa. He also had a job at the Springfield Nuclear Power Plant at the time. Homer told Declan to check back in eight years because he would be rich.
At the age of 40, Homer was a millionaire living in a mansion with his family. He told Declan that he had made his fortune with the Condiment Pen, a pen that could dispense condiments. Eventually, it turned out that they were squatting in Mr. Burns' Summer mansion. The hounds then chased the Simpsons from the house. Declan then kept trying to confront Homer about why he lied about being rich. Eventually, he got to talk to Homer about it. Homer told Declan that he had nothing new in his life since the last time Declan had visited and he wanted to seem cool. Declan reflected on what Homer had said and realized that he felt affection for him. So, Declan got footage from the documentary and made a short video of people in Springfield saying positive things about Homer.
At the age of eight, Marge liked photography and took photos of her fellow school children. At 16, she became the photographer for the Springfield High School newspaper, The Sentinel. By age 24, her photography career didn't seem like it was taking off as she was left taking photos of people for passport photos. However, she had gotten together with Homer at the time.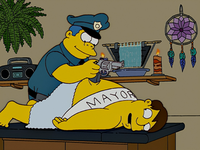 Declan followed Moe from school to when he became a bartender as well as increasingly ugly over the 8 year gaps.
At the age of eight, Clancy Wiggum liked to play cops and robbers with Homer. At 16, he had become the hall monitor at the Springfield High School. He later entered the Springfield Police Academy at 24 where he was terrible with his gun and gun safety. He only got through Police Academy by giving back rubs with his service weapon. At 32, Clancy Wiggum was giving back rubs to Mayor Quimby. Wiggum was promoted to police chief as long as he could give Quimby back rubs at 8:30 every day. In the present day, Clancy told Declan that he had everything he wanted, with Lou adding that he didn't have pants that fit.
Behind the Laughter
[
edit
]
Growing Up Springfield is a reference to Michael Apted's Up series.
Appearances
[
edit
]