Level 1
Wikisimpsons - The Simpsons Wiki
Level 1
Level Information
| | |
| --- | --- |
| | The contents of this article or section are considered to be non-canon and therefore may not have actually happened or existed. |
Level 1 is the first level of The Simpsons: Hit & Run. This level is set in the residential area of Springfield during the morning of October 25th. These first missions do not follow a plot and are meant to be a tutorial. There are eight missions in this level, instead of the usual seven. The first one is the default tutorial mission and can not be replayed.
The player can explore the town and undertake the missions whenever he/she wants. To start a mission, the player has to talk to the corresponding person, who is indicated by a big exclamation point over his/her head. After a dialogue, a screen showing the objective(s) appears, then the mission starts. Some missions will require that one use a certain vehicle or wear a certain outfit. When all of the main missions in a level are completed, a table appears showing the percentage of completion for the entire level and the next level begins.
After Homer destroys a wasp camera that flies inside his home, he watches Krusty on TV advertising the new Buzz Cola. Now he wants some cola, so he decides to go to the Kwik-E-Mart.
The Cola Caper
[
edit
]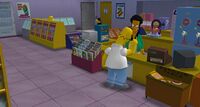 Marge needs Homer to go to the Kwik-E-Mart to buy some cola and ice cream with the mini-pies in it. He says one of their children could have ate it, probably Milhouse. When he arrives, Apu tells him Marge already bought some cola and ice cream, but Homer says that he ate it all.
This is a tutorial mission and can not be replayed through mission select.
S-M-R-T
[
edit
]
Lisa forgot her science project, so Marge wants Homer to give it to her before going to work (much to Homer's chagrin). Homer has to race Skinner to the school. He arrives first and gives the project to Lisa. She notices the gallbladder is missing. Homer was hungry and ate it, believing it to be a fig, but it was just clay. She informs him Mom called and wants him to go back home.
This is the first race mission.
Petty Theft Homer
[
edit
]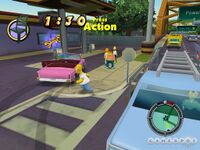 Ned is worried because someone stole several of his belongings—it was Homer. Ned has called the police, so Homer decides to find the missing things: a tuxedo, a lawn mower, a cooler, a lawn chair, a family portrait and Rod's inhaler. Homer had given the cooler to Barney (who used it as a toilet). After Homer gives everything back to Ned, he rewards Homer with a prayer from The Lord's number one fan, himself.
This is the first timed mission: Homer has to find everything before the time runs out.
Office Spaced
[
edit
]
Homer is late for Smithers' inspection, so he talks to Lenny for help. Lenny tells him he saw Smithers at the Kwik-E-Mart. Homer buys the Plow King snowplow from Barney, since he needs a big truck to destroy Smithers' car (Burns' Limo). He goes for him and smashes his car so much that it explodes and manages to arrive first to the power plant.
This is the first destruction mission: Homer needs to destroy Smithers' car with the Plow King before he reaches the power plant.
Blind Big Brother
[
edit
]
Homer can not sleep at his office because of the camera, so he decides to destroy the power couplings. He kicks the nine couplings inside the power plant so he goes back to his work station to sleep, but Mr. Burns announces it is time to leave.
This is one of the few on-foot missions: Homer has to destroy the couplings by jumping on the metal paths and elevators on the roof before the time runs out.
Flowers by Irene
[
edit
]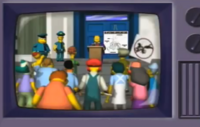 Homer watches the Channel 6 News. Kent Brockman reports lots of strange cameras everywhere. A mob goes to complain to Mayor Quimby at the Springfield Town Hall. There is also a report of strange black vans spying all over the town. Homer notices one of the black vans right outside their window, and Marge tells him he is sexy when he is paranoid. Homer decides to follow this van. It takes him to Burns' mansion, so he thinks Mr. Burns is behind all this.
This is the first follow mission.
Bonestorm Storm
[
edit
]
Homer wants Marge to help him reveal Mr. Burns' plan, but she is busy trying to stop the sequel of the video game Bonestorm, Bonestorm II, to be sold. With her Canyonero, he helps her knock a truck and destroy the boxes with video games that fall from it.
This is the first kick and grab mission and the first in which the player is provided with a car, this time, the Canyonero. Homer and Marge need to kick the truck ten times so ten boxes fall from the truck and grab them before the time runs out.
The Fat and Furious
[
edit
]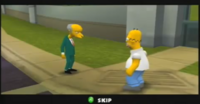 Homer asks Carl for help, but he is drunk, so Homer needs to get to Burns before Smithers does. He races him and reaches Burns' mansion just in time to talk to him. First, Mr. Burns thinks Homer is accusing him of having Amelia Earhart's plane shot down. According to Mr. Burns, the black vans are just pizza vans. Homer realizes he was wrong, so Burns releases the hounds and fires him.
Bonus mission
[
edit
]
Every level has an extra mission, unrelated to the plotline. When the mission is finished, the player is rewarded with a vehicle, which can be accessed by the multiple phone booths around the city.
This Old Shanty
[
edit
]
Cletus wants Homer to find cardboard tubes so he can finally have indoor plumbing and collect the tomacco harvest from the tomacco field, one of his daily chores. Homer finds the cardboard tubes, collects the tommaco harvest and goes back to Cletus. He rewards Homer by taking him to any place whenever he wants in his Pickup Truck.
Homer has to do all this in under 2 minutes, 30 seconds. By completing this bonus mission, the player earns Cletus' Pickup Truck.
Gallery
[
edit
]