Wild Barts Can't Be Broken/References
Wikisimpsons - The Simpsons Wiki
214
"Wild Barts Can't Be Broken"
Cultural references
[
edit
]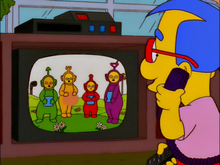 The title of the episode is a reference to the drama film Wild Hearts Can't Be Broken.
Cyndi Lauper sings "The Star-Spangled Banner" to the tune of her song "Girls Just Want to Have Fun".
In the Springfield Elementary School locker room, Homer, Lenny, Carl and Barney sing "We Are the Champions" and "We Will Rock You" by Queen.
Milhouse is seen watching the children's TV show Teletubbies (right) before switching to the movie commercial.
The Bloodening (the movie being shown at the drive-in) is based on the horror film Village of the Damned.
The review Marge reads of Talk to the Hand, "The writing snaps, crackles and pops", was how Variety reviewed the sitcom Just Shoot Me!.
When Lisa is going through TV channels, Franklin D. Roosevelt's Infamy Speech can be heard.
The scene where the kids take the different electronics through the fence parodies scenes from Our Gang, including Milhouse dressed as Alfalfa.
The scene where people are running out of the movie theater is a clear reference to a scene from The Blob.
The song near the end of the episode parodies the song "Kids" from Bye Bye Birdie.
Grampa's line, "We're gonna gonna teach you rugrats a lesson", may be a reference to the long-running Nickelodeon animated series Rugrats, but it's also possible that Grampa is using the word in its slang sense, as a pejorative term for children.
The last scene with the elderly playing in the street is a reference to the Twilight Zone episode Kick the Can.
The order the kids are sitting in at the drive-in changes.
When the kids plan their revenge at the billboard, Lewis' and Sherri or Terri's voices can be heard, even though they were not present.
In two shots at Moe's, Lenny's shirt is lime-green.
When the Gracie Films logo is shown in the closing sequence, when the woman says "Shh!", Increase shouts, "Don't tell me to shush, you stupid lady!"
Continuity
[
edit
]
---