Beyond Blunderdome/References
Wikisimpsons - The Simpsons Wiki
Cultural references
[
edit
]
The title is a reference to the movie Mad Max Beyond Thunderdome, in which Mel Gibson starred.
The scene where Homer drives the Elec-Taurus into the water is from the James Bond film The Spy Who Loved Me.
William Milo and Robyn Hannah greenlit all of Shaquille O'Neal's movies, including Kazaam.
Edward Christian mentions that the movie is a follow up to Braveheart.
Professor Frink asks if there will be any "Flubber" in the movie, referencing the movies The Absent-Minded Professor and the remake Flubber.
Mel Gibson's pilot is John Travolta, who plays a pilot in a number of films including Look Who's Talking, but is also himself a certified pilot who owns five aircraft.
William Milo tells Robyn Hannah that she has to see the director's cut of Booty Call.
When Homer is watching a test screening for Mel Gibson's remake of Mr. Smith Goes to Washington, he badmouths it, saying "At least the Jimmy Stewart version had the giant rabbit who ran the savings and loan!". These are references to Harvey and It's a Wonderful Life.
Homer says that Mel Gibson and Jack Valenti think they can have any women they want.
The George Kennedy Airport is a reference to actor George Kennedy, who starred in the film Airport.
The police shoot-out scene with Robert Downey Jr. is a reference to Downey's problems with the law in the 1990s, during which the actor battled drug addiction and was arrested on several occasions.
The tour guide points out the spots where the Brown Derby used to be and where Hugh Grant filmed the movie Nine Months.
On a tour of celebrity homes, Marge pointed out the house owned by the dog from Frasier and the house where Ellen DeGeneres and Anne Heche live.
In the Mr. Smith Goes to Washington remake, Homer says "I second that motion... with a vengeance.", referencing Die Hard with a Vengeance.
Mel Gibson tossing away his U.S. Senator badge at the end of the Mr. Smith Goes to Washington remake is similar to the endings of Dirty Harry and High Noon.
Marge and Homer have seen the films Howards End and Sophie's Choice.
Edward Christian said that they had already bought five Golden Globe awards. Mel Gibson mentions that he has two Oscars.
Edward Christian says that the new version of Mr. Smith Goes to Washington is worse than Godfather III.
Rainier Wolfcastle is seen filming Saving Irene Ryan, a reference to both Saving Private Ryan and the TV sitcom The Beverly Hillbillies.
The movie billboard in Hollywood that Homer and Mel Gibson crashed through featured a woman (implied to be overgoing labor) and the title "She's Having a Baby... Again!", spoofing the movie She's Having a Baby.
After the studio cart crashes, Mel says to Homer, "I'm getting too old for this crap," paraphrasing what Danny Glover often says to Mel Gibson's Lethal Weapon character.
Vehicles seen in the Hollywood Auto Museum include:
Marge says that she used up the last camera roll on the man she thought was Judge Judy.
Homer asks Mel Gibson if Braveheart and Payback ran away.
Homer asks Mel Gibson if anyone owns the rights to Indiana Jones.
Continuity
[
edit
]
At the end of the episode "When You Dish Upon a Star", Judge Snyder declares that Homer cannot be within 500 miles of any celebrity, living or dead. However, in this episode, the restraining order seems to have been either dropped or forgotten.
In Marge Simpson Living, Marge reminds Homer that he has tried snowplowing ("Mr. Plow"), webhosting ("The Computer Wore Menace Shoes"), trucking ("Maximum Homerdrive"), fortune cookie writing ("A Hunka Hunka Burns in Love"), cartoon voiceovers ("The Itchy & Scratchy & Poochie Show"), food critic ("Guess Who's Coming to Criticize Dinner?"), screen writer ("Beyond Blunderdome"), mixologoist ("Flaming Moe's"), bootlegger ("Homer vs. the Eighteenth Amendment") and astronaut ("Deep Space Homer") when he was searching for a new job.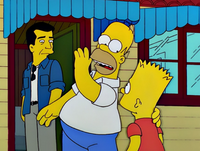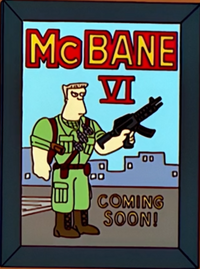 When Homer talks to Bart outside of the cutting room, he places his hand on Bart's right shoulder. However, when Homer removes his hand, his fingers are still on Bart's shoulder.
One of the posters at Aztec Theater misspells "McBain" as "McBane".