The Muppets Go Medieval
Wikisimpsons - The Simpsons Wiki
The Muppets Go Medieval
Movie Information

The Muppets Go Medieval is a 1977 romantic comedy film starring Troy McClure, Dyan Cannon, and The Muppets.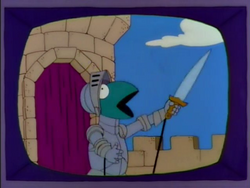 The movie's plot was a love triangle, Sir Lies-A-Lot (played by Troy McClure) and
Kermit
competing for the affections of
Miss Piggy
. In the scene that was shown, Sir Lies-A-Lot was wooing Miss Piggy by asking for her hoof in marriage. She accepted the proposal and the two of them kissed. A jealous Kermit came on the scene and told Lies-A-Lot to "Unhand thee swine, you swain!" Kermit next asked Miss Piggy to come back to Hamelot with him, but she refused: "Not now, frog. Me and Iron Pants are just getting acquainted." Kermit and Lies-A-Lot then fought a duel with swords.
Viewings
[
edit
]
The Simpson home
[
edit
]
The Simpson family saw the movie on TV at home. Lisa didn't know what a Muppet was and asked Homer, but he couldn't explain it to her. Bart then asked, "Why'd they make that one Muppet out of leather?" Marge corrected him, pointing out that it wasn't a Muppet, but Troy McClure.
The Drive-in
[
edit
]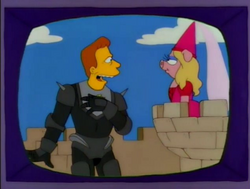 Troy McClure was dating
Selma
. After they had a couple of dates, McClure's agent told him that his best chance of working again was to be seen in a normal romantic relationship. McClure then took Selma to a drive-in movie theatre that was showing
The Muppets Go Medieval
. As Sir Lies-A-Lot proposed to Miss Piggy, in real life McClure synchronized his own proposal to Selma with the on-screen dialogue. Selma accepted McClure's proposal just as enthusiastically as Miss Piggy accepted Sir Lies-A-Lot's.
Behind the Laughter
[
edit
]
Sir Lies-A-Lot's name is a pun on Sir Lancelot from the Arthurian legend, and "Hamelot" is a pun on Camelot.
Appearances
[
edit
]
---