Funtendo Zii
Wikisimpsons - The Simpsons Wiki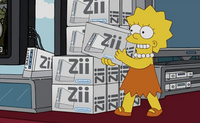 The Funtendo Zii is a gaming console.
History
[
edit
]
After observing Mr. Burns playing Zii Sports and another a World War II first person shooter, Lisa purchased a Funtendo Zii from a hardware store for the Springfield Retirement Castle. Lisa took the Zii to the retirement castle and sets it up for Grampa and the other residents, who were confused by the technology at first, but soon warmed up to a game of virtual tennis. The residents eventually began to feel younger and start bossing around the nurses, who in response destroyed the Zii by putting it in a dishwasher.[1]
The console's successor has also been produced, the Funtendo Zii Zu.[2]
Behind the Laughter
[
edit
]
Appearances
[
edit
]
References
[
edit
]