Lisa's First Word
Wikisimpsons - The Simpsons Wiki
"The sooner kids talk, the sooner they talk back. I hope you never say a word."
"Daddy."
―Maggie (after Homer leaves)
"Lisa's First Word"
Episode Information

"Lisa's First Word" is the tenth episode of season 4 of The Simpsons and the sixty-ninth episode overall. It originally aired on December 3, 1992. The episode was written by Jeff Martin and directed by Mark Kirkland. It guest stars Elizabeth Taylor as Maggie Simpson.
Synopsis
[
edit
]
In the Simpson house, the family are trying, unsuccessfully, to get Maggie to speak. Bart then asks what his first word was. Marge has a flashback to when a young Bart walked in on her and Homer having sex and said "Ay caramba!". Marge then tells Bart that she doesn't remember his first word. Marge then decides to tell the story of Lisa's first word instead.
In the Spring of 1983, Marge and Homer lived together with Bart in the Lower East Side of Springfield. Bart was a troublesome child, referring to Homer by his name instead of "dad", swinging on the clothes line naked, and demanding long bedtime stories. After Bart flushes Homer's wallet down the toilet, Marge tells Homer and Bart that she's pregnant and that Bart's going to have a younger brother or sister. Marge then tells Homer that they'll need a bigger house to live in. They left Bart with Patty and Selma and went looking for a new house.
After finding several houses that weren't great, they found a new house that they loved, 742 Evergreen Terrace. However, it was out of their price range. Homer then went to Grampa to ask him for the money to buy the house. Grampa agreed to sell his house and give them the money, and Homer told Grampa that he could live with them. In the present, Homer told the kids that it was about three weeks after that they sent Grampa to the Retirement Castle. The family also keeps trying to get Maggie to talk, with Homer offering her cookies to speak. Every time, Maggie points out somewhere for Homer to look at and steals the cookie.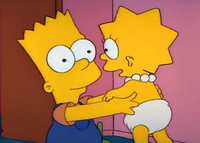 Back in the 1980s, Homer, Marge, and Bart moved into their new house. Ned and Todd Flanders then visited to welcome them to the neighborhood. Ned told Homer that if there was anything that he could do to help to just let him know. Homer asks for Ned's new TV tray, and Ned begrudgingly gives it to him. Homer then reveals that he never gave the TV tray back to Ned. Shortly after moving into the house, Bart had entered his terrible twos and was giving Marge headaches. Meanwhile, Homer was watching television frequently. One advert for Krusty Burger revealed that a new promotion was happening with them where customers could win free burgers if the USA won events at the 1984 Summer Olympics. That night, Bart was being made to sleep in a toddler bed rather than his crib, which he didn't want to leave. Homer then decided to make Bart a clown bed since Bart liked clowns. However, the clown bed scared Bart instead.
When Marge's water broke and the baby was coming, Bart was left with the Flanders family to stay the night. Bart hated it in the house but decided that it was better than sleeping in his clown bed at home. At the hospital, Marge gave birth to Lisa and the family then went home. Bart got jealous of all the attention Lisa was getting from the family and decided to get revenge by playing up. He cut Lisa's hair off and tried giving her to the Flanders family. However, he got punished every time. Eventually, Bart decided that he wanted to leave home. Lisa went into his room whilst he was packing his toys and Bart started to shout at Lisa about how it was her fault. Lisa then says her first word, "Bart". Bart was shocked that Lisa spoke and took her downstairs to show their parents. The family then tries to get Lisa to say other words too. When Lisa calls Homer by his first name rather than "Daddy", she and Bart begin to bond some more.
In the present, Bart and Lisa are fighting once again. As Homer takes Maggie up to bed, he tells Maggie that he hopes that she never says a word because the sooner kids talk, the sooner they talk back. As Homer puts Maggie in her crib and walks out the room, Maggie says "Daddy", without Homer hearing.
Production
[
edit
]
Showrunners Al Jean and Mike Reiss talked about how they wanted Maggie to say something. Reiss then came up with the idea of having Maggie say "Daddy" when no one else could hear it. Since writer Jeff Martin had written "I Married Marge", another flashback episode, they decided to give the episode to him to write.[1] Jeff Martin said that it's fun to make flashback episodes because you can look back to what was in the news that year to make jokes about.[2]
Originally, the episode came up too short. So some minor scenes, such as the vendor in 1983, were added to increase the length.[3] The Itchy & Scratchy Show episode and the long couch gag were also used because the episode was too short.[1] Younger Bart and Lisa were drawn with fewer spikes on their heads than their older selves.[3]
The clown bed is based on Mike Reiss' childhood, where his father built Reiss a clown bed. The song that Rod and Todd sing, "I've Got the Joy Joy Joy Joy", was put in because Jeff Martin had to sing the song at Bible camp.[2] Elizabeth Taylor had to say the "Daddy" line about twenty times because every time she said it, it sounded too "sexy" and not like a baby.[4] After the recording session, Taylor said "fuck you" to Matt Groening and walked out. However, this was said in jest.[5]
Reception
[
edit
]
In its original American broadcast, "Lisa's First Word" was watched by 28.6 million viewers.[6] and was the most watched episode of season 4. It finished thirteenth in the ratings for the week of November 30 to December 6, 1992, with a Nielsen rating of 16.6.[7]
Elizabeth Taylor's role as Maggie was widely praised, with it getting the #13 spot on IGN's Top 25 Simpsons Guest Appearances list in 2010.[8]
As of January 2021, the episode has an 8.7 rating on IMDb[9] and a 9.1 rating on TV.com.[10]
In other languages
[
edit
]
| Language | Name | Translation |
| --- | --- | --- |
| Deutsch | "Am Anfang war das Wort" | In the beginning was the word |
| 日本語 | "シンプソンズ家の大事件" | The Simpsons' Great Incident |
References
[
edit
]