Clown bed
Wikisimpsons - The Simpsons Wiki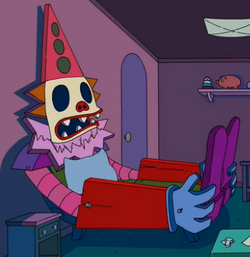 "Can't sleep, clown will eat me."
The clown bed is a bed that Homer built for Bart when Bart was younger.
History
[
edit
]
Homer built Bart the bed because he knew that he liked clowns. However, Bart thought the bed was scary. When Bart was trying to sleep, but unable due to being scared, he imagined the bed speaking to him saying "If you should die before you wake" before giving an evil clown laugh.[1]
Bart tried to tell Homer that the bed was scary but Homer ignored him. Homer then accidentally broke the clown head off, scaring Bart even more. The bed was then repaired and after Bart and Lisa were flung into the house, they landed in it, both getting scared. The bed then completely collapsed.[2]
Appearances
[
edit
]
References
[
edit
]