Goo Goo Gai Pan/References
Wikisimpsons - The Simpsons Wiki
Cultural references
[
edit
]
China references
[
edit
]
The title of this episode is a pun on moo goo gai pan, the name of a popular pseudo-Chinese American recipe, based on the Cantonese dish mah gu gai pin, which is composed of fresh button mushrooms and other vegetables with sliced chicken.
China (except for Hong Kong and Macao) uses the Simplified Chinese characters, but many signs in this episode are clearly using Traditional Chinese. However, there are still signs that use Traditional Characters in China.
The correct spelling of the place would be "Tian An Men", not "Tien An Men" (as this is the Wade system).
When Selma stands in front of the tank piloted by Wu, the shot is highly reminiscent of the famous image of the Unknown Rebel blocking the line of tanks during the Tiananmen Square protests.
While flying to China, the plane passes over a monument to "Warrior and spicy chicken pioneer" General Zuo Zongtang.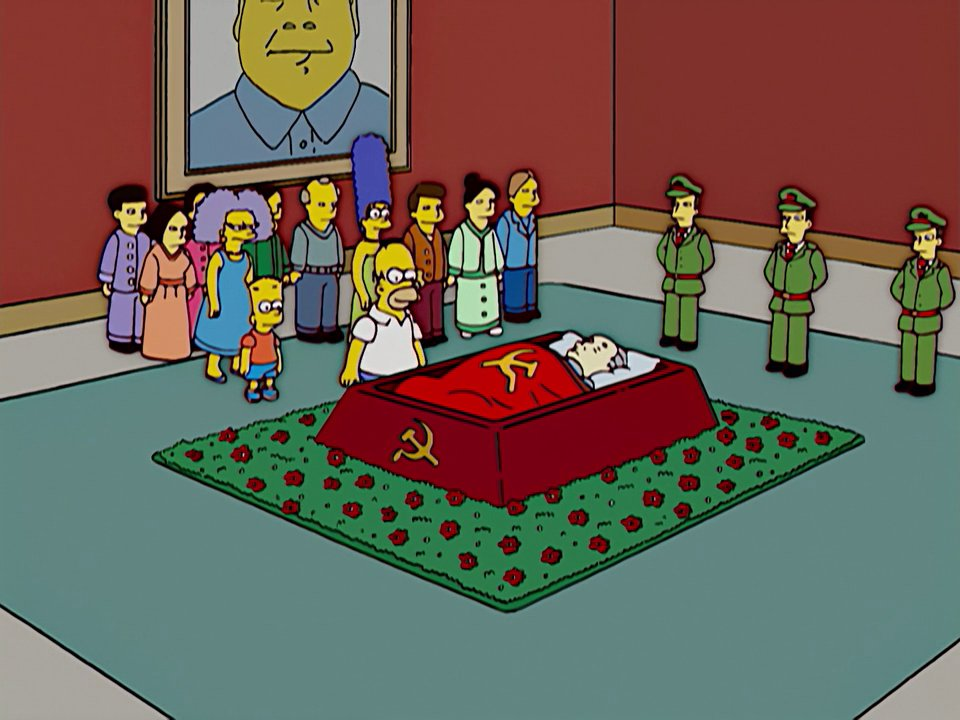 The original broadcast portrayed the body of Mao Zedong covered by the flag of the Communist Party of China with the hammer and sickle (as is the case in the actual mausoleum). However, in later broadcasts the flag was substituted for the Flag of the People's Republic of China.
In the Chinese consulate there is a map behind the consulate official showing Taiwan as a separate country, extremely unlikely given the PRC's position regarding Taiwan.
There is a plaque reading, "On this spot in 1989, nothing happened", in Tiananmen Square, a reference to the Chinese Government's denial of the 1989 Tiananmen Square massacre. It is also a reference to the year The Simpsons first aired.

In addition to being a sardonic reference to the massacre, it is a parody of real signs. Available from catalogues, they are mock-historical plaques that say: "On this site in 1897, nothing happened."

What's written on the adoption paper is gibberish, not Chinese, though this may be a play on the fact that computers which do not have Chinese text support installed may transcribe gibberish and random symbols in its place (mojibake).
The Simpsons leave on a Junk from Hong Kong, as evident from the background.
The aircraft the Simpsons and Selma take to China is not capable of a China to America trip.
When Homer falls from the chairs he is falling face-down. When he lands on the chairs, he is on his back.
---