Catch 'Em If You Can
Wikisimpsons - The Simpsons Wiki
331
"Catch 'Em If You Can"
"Catch 'Em If You Can"
Episode Information

"Catch 'Em If You Can" is the eighteenth episode of season 15 of The Simpsons and the three-hundred and thirty-first episode overall. It originally aired on April 25, 2004. The episode was written by Ian Maxtone-Graham and directed by Matthew Nastuk.
Synopsis
[
edit
]
Bart lectures other students on the school bus about water balloons, and to demonstrate, he throws one at Lisa. Lisa and Bart then fight on the bus all the way home, and fighting in the house, Marge stops them, and tells them that they are going to Dayton, Ohio to celebrate their Uncle Tyrone's birthday. However, Bart and Lisa aren't thrilled with the idea, and they are going to stay home with Grampa. As a family activity, the family rents the film Love Story, and as Bart and Lisa are bored with the movie, they ruin any special moment that Homer and Marge could have had watching the film.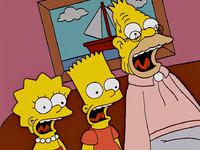 Homer and Marge then look forward to their trip without the children. However, at the airport, they see a line for a trip to Miami, and after thinking it over, Homer and Marge decide that they will not go to Uncle Tyrone's birthday celebration, and instead go to Miami as a second honeymoon. In Springfield, Bart and Lisa watch television with Grampa and learn that a tornado is wiping out the hotel that Marge and Homer were supposed to be staying in. However, a little bit later, they get a call from Marge, whom says that all is well.
Growing more suspicious, Bart uses last-call return to find out the last incoming phone number, and the pair learn that their parents are in Miami instead. After persuasion that many single beautiful pensioners will be there, Bart and Lisa get Grampa to take them to Miami. Returning to their hotel room, Marge and Homer see Bart and Lisa sleeping in front of the door. After deciding to not let their romantic runaway becoming a family-based one, Marge and Homer run from the ready-to-track-them-down pair.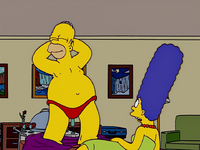 Homer and Marge now run away to Atlantic City, where they see that their children are there as well. Homer and Marge run from the pair again in a musical montage and an animated sequence, going all over the United States from Alaska to New York and back, and pulling many tricks which involves disguising themselves as airport officials, and simultaneously passing a disguised Moe along the way who has disguised himself as an a woman in a dress. Homer and Marge then find themselves in Niagara Falls, but the children managed to get into their room, much to the annoyance of Homer and Marge. They confront their parents, which leads to the adults allowing the kids to stay with them. Early in the morning, Homer and Marge sneak out to an amusement park to get time alone. Bart and Lisa, feeling guilty for ruining their parents good time, also go out to the amusement park to give them time alone. They then encounter each other there.
Homer and Marge are annoyed at the kids for following them and won't let Lisa explain that she and Bart were actually trying to give them time alone. Homer and Marge then run off and hide in a broken bouncy castle. They start to mess around inside it, which causes the castle to fall into the river. After Canadian and American rescue teams fight over who gets to rescue them, the castle goes over the falls, but they are saved, as the castle doubles as a flotation device.
When the rescue team asks if anyone is alive, a naked Homer and Marge yell that they're more alive than any of them, and they continue having sex underneath the Falls. Lisa then said that it seems everything worked out fine for everybody. Meanwhile at the Flanders house, Ned and Rod get huge credit card bills from the Simpsons using their accounts to pay for their around the country plane trip.
Production
[
edit
]
Reception
[
edit
]
"Catch 'Em If You Can" won the 2005 Writers Guild of America award in Animation.[1]
As of January, 2023, the episode has a 7.1 rating on IMDb.[2]
In other languages
[
edit
]
| Language | Name | Translation |
| --- | --- | --- |
| Deutsch | "Auf der Flucht" | On the Flight |
| Español | "Atrápanos si puedes" | Catch us if you can |
| Español | "Atrápalos si puedes" | Catch 'Em If You Can |
| Français | "Attrapez-nous si vous pouvez" | Catch us if you can |
| Français | "La Course après du monde" | The Race for the World |
| Italiano | "Prova a prenderli" | Try to get them |
References
[
edit
]