Billy Graham's Bible Blaster
Wikisimpsons - The Simpsons Wiki
"Convert the heathens!"
Billy Graham's Bible Blaster
Game Information
Billy Graham's Bible Blaster is a religion-themed video game where the object is to "convert the heathens". The Flanders family own a copy.
History
[
edit
]
After Maude Flanders died, Marge suggested that Bart play with Rod and Todd Flanders to cheer them up. Bart said that video games always cheered him up when he was feeling low, but was skeptical when he found the Flanders' copy of Billy Graham's Bible Blaster. He gave it a try anyway, and, with Rod and Todd coaching him, found that he enjoyed the game and it really did cheer him up. Todd asked if he and Rod could play, but Bart said that since the three of them were a team, they were already playing. This elicited a mildly enthusiastic "Yay" from Rod and Todd.
Gameplay
[
edit
]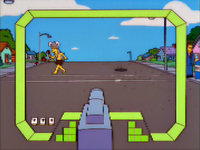 The object of the game is to shoot Bibles at heathens and convert them to Christianity. To win, the player must turn 10 heathens into Christians in a limited amount of time. 125 points are awarded for a successful shot, and 25 points are deducted after a miss. A partial conversion will make the heathen a Unitarian.
Behind the Laughter
[
edit
]
Billy Graham is an American Christian evangelist. The game is based on the unlicensed NES game Spiritual Warfare, where, like Billy Graham's Bible Blaster, the player is encouraged to "convert the heathens" by shooting them.
On the official Simpsons website, it was featured as a minigame on Rod's character biography. The website no longer exists.
Appearances
[
edit
]