I, (Annoyed Grunt)-bot
Wikisimpsons - The Simpsons Wiki
322
"I, (Annoyed Grunt)-bot"
This episode is considered non-canon and the events featured do not relate to the series and therefore may not have actually happened/existed.

The reason behind this decision is: Snowball II dies and is later replaced by Snowball V, with it never being brought up again. Skinner's non-canon name of Armin Tamzarian is also mentioned.

If you dispute this, please bring it up on the episode's talk page.
"I, (Annoyed Grunt)-bot"
Episode Information

"I, (Annoyed Grunt)-bot" is the ninth episode of season 15 of The Simpsons and the three-hundred and twenty-second episode overall. It originally aired on January 11, 2004. The episode was written by Dan Greaney and Allen Glazier and directed by Lauren MacMullan.
Synopsis
[
edit
]
"Bart and Homer enter a Robot Rumble competition. But when Homer isn't able to build a decent robot he decides to adjust the robot so that Homer can operate it from the inside. Meanwhile, Snowball II dies and Lisa tries to replace her with another cat."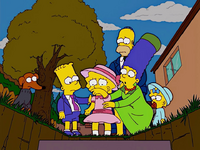 Milhouse runs to the Simpson house to tell Bart that the Psycho Cycle Conversion Kit had arrived. They do up Bart's bike only for the bullies to mock it, steal the tassels from it and get away on their superior 10 gear bikes. Bart, annoyed at this, asks Homer for a new bike, but is told that he'll only get a new one when his old one is broken. Bart then comes up with a plan and throws his bike in front of Dr. Hibbert's car, getting it destroyed. After apologizing and offering to pay for a new bike, he drives off again, only to run over Snowball II, killing her.
Homer takes Bart to Vicious Cycle to get him a new bike. After Homer assembles it for Bart, Bart excitedly rides off and laughs at the bullies as he now has a bike better than theirs. However, Homer's shoddy build job means the bike falls apart and the bullies ride off laughing at Bart. Later, Homer and Bart watch Robot Rumble when Bart tells Homer that he isn't mechanically handy.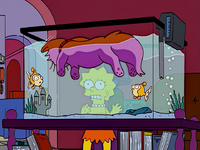 At the Springfield Animal Shelter, Lisa tells Marge that she doesn't feel ready to get a new cat, until she sees Snowball III and falls in love. In the basement of the house, Homer tries to build a robot, only for it to all fall apart as soon as it's finished. He then remembers advice his dad gave him, "if you can't build a robot, be a robot." Bart then woke up the next morning to find a robot in his room. After finding that it didn't fall apart, Bart made the robot destroy a 6 pack of Duff Beer, and was happy to find that it worked. That same day, Snowball III fell in the fish tank and drowned.
At the Robot Rumble competition, Bart gets ready to fight only for Homer to not show up. Chief Knocka-Homer gets out to fight, with Homer inside, getting damaged and hurt in the process. After Homer uses Buzzkill's saw against it, winning the fight, Bart couldn't be happier. Meanwhile, Lisa and Marge go back to the Animal Shelter to pick up a new cat, Coltrane. The very same day, Coltrane got scared by Lisa's saxophone playing, jumped out the window and died.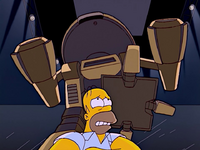 The next fight Knocka-Homer was in was against Ralph-O-Cop, who had a gun. Knocka-Homer took the gun off Ralph-O-Cop and shot it several times in the face, winning the fight. Knocka-Homer then fought several other fights, winning them all, but with Homer getting more and more beaten up. Knocka-Homer then gets through to the title match against Killhammad Aieee. Homer decides to tell Bart that he was really inside the robot but when the bullies show interest, he ends up not saying anything.
Lisa and Marge go to the Animal Shelter again but are told by the employee that the cats would rather take their chances in the back room rather than go home with them. Lisa, sad about not having a cat, sits on the doorstep of the house when the Crazy Cat Lady comes along and throws a cat at Lisa who looks identical to Snowball II. Lisa then names the new cat Snowball II to save money on a new cat dish.
In the title match against Killhammad Aieee, Knocka-Homer is bashed about and unable to do anything. It is then that Bart realizes that Homer was inside Knocka-Homer all along. Bart thought that Homer being Knocka-Homer and fighting against all those robots to make Bart happy was cool and thought he was the luckiest kid in the world. Killhammad Aieee then grabs Knocka-Homer and continues fighting until Homer gets popped out of the robot and Killhammad Aieee stops, due to obeying the Three Laws of Robotics and unable to hurt a human. Knocka-Homer is declared the winner, despite the rules stating that a human can't be a robot, and Homer and Bart share a bonding moment.
Reception
[
edit
]
As of March 15, 2018, the episode has a 7.2 rating on IMDb[1] and a 8.8 rating on TV.com.[2]
References
[
edit
]