Psycho Cycle Conversion Kit
Wikisimpsons - The Simpsons Wiki
Psycho Cycle Conversion Kit
Object Information
Object:
Cycle conversion kit
Features:
Flame decals
Marine Corps tassels
Bullet-proof seat
Rub-on tattoo
Motorbike mimic
Owner:
Bart Simpson
First Appearance:
"I, (Annoyed Grunt)-bot"

The Psycho Cycle Conversion Kit is a kit that converts your bicycle into a "Psycho Cycle".
History
[
edit
]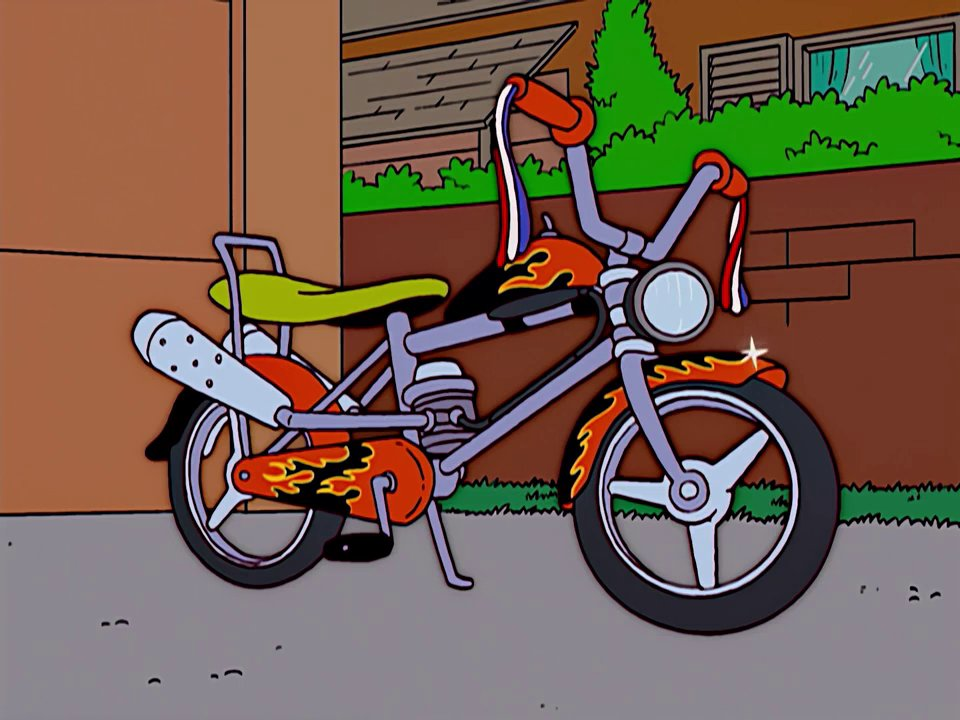 Milhouse bought the conversion kit for Bart's bike. After Bart did his bike up, he and Milhouse rode it around town and many people were in awe. The bullies then caught up with Bart and told Bart his bike was "baby bike". Kearney then stole Bart's tassels and the bullies rode up a hill, shifting gear to go faster, leaving Bart behind. Bart then came up with a plan to destroy his bike so he could get a new one with gears, throwing it in front of Dr. Hibbert's car.
Features
[
edit
]
The Conversion kit features flame decals, Marine Corp tassels, a bullet-proof seat, a motorbike mimic noise and a rub-on tattoo for your "special someone".
Appearances
[
edit
]
---