The Simpsons Pinball Party
Wikisimpsons - The Simpsons Wiki
The Simpsons Pinball Party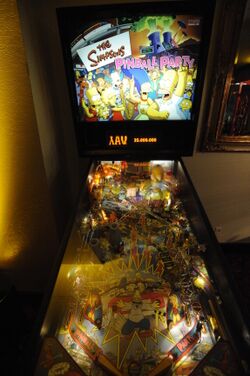 A machine at The Simpsons 500th Episode Party.
Pinball Machine Information
Manufacturer:
Stern Pinball
Release date:
February 14, 2003[1]
System:
Stern WhiteStar
Design:
Keith P. Johnson
Joe Balcer
Programming:
Keith P. Johnson
Dwight Sullivan
Artwork:
Kevin O'Connor
Margaret Hudson
Mechanics:
Wesley Chang
Ray Tanzer
Music:
Chris Granner
Dan Forden
Sound:
Chris Granner
Dan Forden
Voices:
Dan Castellaneta
Nancy Cartwright
Hank Azaria
Production run:
5,900 (approximate)
Players:
4
The Simpsons Pinball Party is the pinball game released by Stern Pinball on February 14, 2003.[1] It is the second Pinball Machine to be released based on the show, the first being The Simpsons, released by Data East.
Description
[
edit
]
"The adventures of the "Simpsons" Family are transformed into a wild affair in this pinball! It features many of The Simpsons favorite characters on a two-level playfield, influenced by classic Simpson's episodes. The object of Simpsons Pinball Party is to help the citizens of Springfield party like there's no tomorrow. The game features a talking / moving Homer head, Bart on a skateboard attached to a captive ball, Itchy and Scratchy drop targets, Comic Book Guy, dot matrix color TV, a monorail that transports the ball across the playfield and a couch that when filled with 3 balls starts the multiball!"
There was one of these machines at The Simpsons 500th Episode Party.
References
[
edit
]
External links
[
edit
]