MI5
Wikisimpsons - The Simpsons Wiki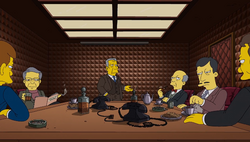 MI5 is the United Kingdom's domestic counter-intelligence and security agency. Their headquarters if the Office of MI5 in London.
History
[
edit
]
Years ago, Terrance's father worked at MI5 under the head of MI5. The head of MI5 asked Terrance's father to find out how the Russians were staying ahead of their intelligence. Terrance's father told the head of MI5 that the Russians had been making lucky guesses because nobody admitted to being the mole. The head of MI5 then ejected him from the building.
Years later, Terrance joined MI5 and had a mission in Prague which only resulted in eleven deaths. He was then assigned to track down the Grey Fox, an American man who was turned into a Russian spy. Terrance went to America to track down the Grey Fox until he retired.
Appearances
[
edit
]
External links
[
edit
]