Tanzania
Wikisimpsons - The Simpsons Wiki
Tanzania
Country Information
Tanzania is a country in Africa. Their current president is Kitenge, a former tour guide who replaced Muntu.
History
[
edit
]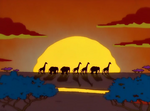 When Homer goes to a pony farm to buy a pony for Lisa, the owner shows him one of her ponies whose likeness "graces a stamp in Tanzania".[1]
The Simpson family once visited the country after Homer won a competition from an old box of animal crackers. They got shown around by Kitenge who took the family to Ngorongoro, Olduvai Gorge and a Masai village. After the Simpsons got separated from Kitenge, they went over Victoria Falls, saw Mt. Kilimanjaro and visited Joan Bushwell's Chimp Refuge.[2]
The Monroe family have a book from Tanzania.[3]
A joke was made while the Simpson family were on the airplane about Tanzania constantly changing it's name from Tanzania, to New Zanzibar and then to Pepsi presents: New Zanzibar. The joke refers to Tanzania's name-changing of the past, changing the name of the country three times in the same year.
Appearances
[
edit
]
References
[
edit
]
External links
[
edit
]