Principal Charming/References
Wikisimpsons - The Simpsons Wiki
Cultural references
[
edit
]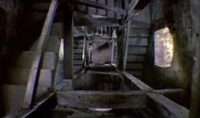 Groundskeeper Willie appears to have pink hair and beard instead of red in parts of the episode.
This is the first appearance of Hans Moleman, but he is referred to as Ralph Melish, which is most likely his prototype name.
People in line at the DMV include:
Homer considers Apu as a husband for Selma. Apu and Selma later slept together after Homer and Marge's second marriage. ("A Milhouse Divided", "Wedding for Disaster")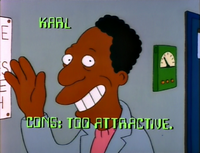 When Homer is trying to find a boyfriend for Selma, Carl Carlson is incorrectly named "Karl".
When Patty says "Marry me, Patty" after looking at the message on the field, she doesn't open her mouth.
After Bart used herbicide to write his name in the grass in 40-foot letters, Principal Skinner punishes him by making him re-seed the lawn by hand. This however wouldn't work, as the herbicide would kill all the seeds; the topsoil would need to be replaced first.
Richard's voice changes within one scene.
Barney is at home when he rings Homer, Homer then rushes off to tell Marge about the BBQ restaurant, Marge immediately rings Selma at the DMV and at the DMV is Barney. It would be impossible for Barney to clean himself up and get to the DMV in that short space of time.