Rubik's Cube
Wikisimpsons - The Simpsons Wiki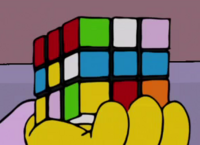 A Rubik's Cube is a 3D mechanical puzzle.
History
[
edit
]
While training for his job at Springfield Nuclear Power Plant, Homer's instructor told him how to deal with emergencies, but Homer was playing with a Rubik's Cube instead of listening to the instructor. Later, when a real emergency occurred, Homer had no idea what to do and blamed his ignorance on the cube.[1]
When the Simpson family hid in the basement from a hurricane, Marge found a Rubik's Cube which she had long ago put away. The family attempted to solve it together. However, the solving session quickly turned into an argument, which reminded Marge why she had put the cube away in the first place.[2]
When Homer temporarily became super-intelligent, he solved several Rubik's Cubes.[3]
When Moe thought that Fat Tony was prank calling him, he told Tony that he would chop him up and make him into a Rubik's Cube he would never solve.[4]
A Rubik's Cube was thrown at Professor Frink.[5]
Lionel Hutz was seen struggling with a Rubik's Cube when he was meeting with Bart and Milhouse. He lamented that the cube had been teasing him for twenty years.[6]
When Homer and Lisa were stumped by a Rubik's Cube, Maggie took over and solved it, unbeknownst to the other family members. Maggie then smiled at the sight of a perturbed Lisa having praise heaped on her by Homer and Marge.[7]
When Bart came home for looking for a cube for a homework assignment, he passed a Rubik's Cube.[8]
Appearances
[
edit
]
References
[
edit
]
External links
[
edit
]
---