Bi-Mon-Sci-Fi-Con
Wikisimpsons - The Simpsons Wiki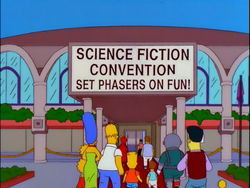 The Bi-Monthly Science Fiction Convention, or Bi-Mon-Sci-Fi-Con, is a bimonthly science fiction convention held in the town of Springfield. The commercials advertise it with two aliens and the tag line, "Be there...and be square!".
History
[
edit
]
The convention is a magnet for the geeks, dorks and nerds of Springfield, and Lisa Simpson is quite unsettled when she is greeted by several boys (Milhouse, Wendell and Üter) from her school while there. Other attendees have included Dr. Hibbert, Lenny Leonard, Carl Carlson, Mayor Quimby, Mark Hamill and Matt Groening.
Comic Book Guy has been seen at Bi-Mon-Sci-Fi-Con, and oddly is also involved in a romance all times as well. The first time around he meets his female equivalent when sorting through boxes of, what else, comic books. However, when she requests that he comb the sweet tarts out of his beard, he dismisses her saying "Don't try to change me, baby." In the second time, the Simpsons go to the convention to prevent him from going any further in his relationship with Edna Krabappel. Edna had previously been a runaway bride at her and Skinner's wedding. At one point, Neil Armstrong attempted to get a booth at the convention, but no one arrived to get autographs because, according to Edna Krabappel, no one cares that Armstrong had actually been to Outer Space, causing Neil Armstrong to hint at firing his agent afterwards. Dr. Smith (or the actor portraying him) also arrived for the convention, although Bart doubts he's the Dr. Smith as he's seen the movie. Dr. Smith mentions that he can clear it up by showing him his resume if Bart can accompany him to the food court, implying that he wanted to lure Bart away to molest him, but was foiled by the robot. Comic Book Guy and Kumiko were shown doing a trick while Milo and Strawberry watched in the audience.
Non-canon
[
edit
]
| | |
| --- | --- |
| | The contents of this article or section are considered to be non-canon and therefore may not have actually happened or existed. |
Chief Wiggum attended a police training session at the Springfield Convention Center and fell asleep. When he woke up two days later, the training was over and the Bi-Mon-Sci-Fi-Con was underway.[1]
Appearances
[
edit
]
References
[
edit
]
---