A Test Before Trying/References
Wikisimpsons - The Simpsons Wiki
518
"A Test Before Trying"
Cultural references
[
edit
]
The episode's title is a reference to:
The school that Nelson Muntz was being sent to was called the Arkham Elementary School for the Criminally Insane. The name of the school refers to the Arkham Asylum, a psychiatric hospital from the DC Comics Universe.
In Bart's nightmare of what would happen if the school would close down, Popeye is seen farming the spinach farm that used to be the school.
The music heard while the students are taking the test is the main theme from the film Halloween.
The music heard while the clowns are getting out of the clown car is the David Bowie song "Changes".
We can notice a reference to Norman Bates' Mother from Psycho.
We can see The Great Raymondo from "The Great Simpsina".
The episode is dedicated to Huell Howser.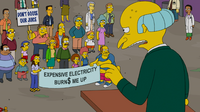 Chief Wiggum's skin color is brown instead of yellow, also his hair is black instead of blue.
Bart's test score raised the entire score of the school by 1, so technically, since the school was judged the worst in the state, it would still make Springfield Elementary the worst school in the state, but tied with the second-worst, presumably Wilson Elementary, which was set to be destroyed. So, neither school would have been destroyed and more standardized testing should have been done.
---