San Diego Comic-Con
Wikisimpsons - The Simpsons Wiki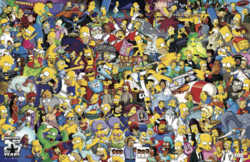 This article or section is incomplete.


Please improve the article, or discuss the issue on the talk page.

The San Diego Comic-Con is a multigenre convention held annually in San Diego, California, United States.
History
[
edit
]
The Official History of Bongo Comics was exclusively sold here.
Best Radioactive Man Event Ever! was exclusively sold here.
At the 2010 Comic-Con, executive producer Al Jean stated no sequel to The Simpsons Movie will be made while the show is still in production.[1]
The Simpsons Best Superhero Stories Ever! was exclusively sold here. Hallmark SDCC 2011 San Diego Comic-Con Exclusive Keepsake Ornament Comic Book Guy was also sold here.
The Simpsons Go for the Gold was exclusively sold there and a limited edition of Radioactive Man: Radioactive Repository Volume One that "glowed-in-the-dark" edition was available only at the Bongo booth in San Diego.
The 2013 Comic-Con was held on July 20 at 12:45 p.m. in Ballroom 20. It had a session with creator Matt Groening, executive producer Al Jean, supervising director Mike Anderson, and consulting producer David Silverman. Footage from guest director Guillermo del Toro and musical guests were shown. The Two One-Shot Wonders in One was exclusively sold for $10 as well.
At The Simpsons panel, consisting of Matt Groening, Al Jean, Mike Anderson and David Silverman again, a clip from the upcoming Treehouse of Horror episode was shown, "A Clockwork Yellow". A hologram Homer also appeared and answered questions.[2] He started to tell the crowd to send scripts to Matt Groening before the hologram was cut off. Also, a Homer head dome was available for people to enter and get The Simpsons swag from to celebrate FXX's The Simpsons marathon. Inside the dome was a paint-by-numbers mural that visitors could help with in an attempt to break a world record for the most people contributing to a single work of art, which was broken.[3] A 5 minute clip of "The Simpsons Guy" was shown at the Family Guy panel and Matt Groening showed up there to ask a question to the panel. A special copy of The Simpsons Family History was also sold here in limited quantities of 200 with a slipcase.[4]
Gallery
[
edit
]
This article or section needs expanding.


Please expand the article or section, or discuss the issue on the talk page.
The 2015 Comic-Con was held on July 11 at 12:45 p.m. in Ballroom 20. Guest panelist was Guillermo del Toro, who was revealed to be directing the couch gag for "Treehouse of Horror XXVI". Nancy Cartwright made her Comic-Con debut. Matt Groening also unveiled Jimbo Jones #1.[5][6]
The 600th episode name was be announced.[7]
Exclusive Kang and Kodos Funko Pop! figures were available at Comic-Con.[8]
Promotional posters
[
edit
]
References
[
edit
]
External links
[
edit
]