Vindicators: Crystal War
Wikisimpsons - The Simpsons Wiki
Vindicators: Crystal War
Movie Information

Vindicators: Crystal War is a superhero and Sci-Fi film about the Vindicators by Marble Studios. It stars Glen Tangier as Airshot. Its sequel, Vindicators: Crystal War 2: Resurgence, was released a year after Vindicators: Crystal War.
In the movie, the Vindicators face off against Chinnos. As Magnesium Man talks to Chinnos, making jokes, Airshot got ready to shoot him. Airshot pumped his gun five times and fired at Chinnos, blowing his head off. Chinnos then used an app on his phone to restore his head before using the Doomsday app to crystallize all of the Vindicators. The film then ended, saying that it would be concluded.
History
[
edit
]
The Simpson family and many Springfieldians went to watch the film at the Springfield Googolplex Theatres. When the film got to its climax, many of the audience members were crying. The audience were then told that the next film was a year away.
Credits
[
edit
]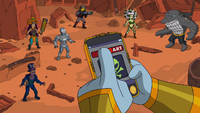 Assistant to Glen Tangier - Adela Wintthrop
Assistant to Glen Tangier's Assistant - Kelly Grisar
Assistant to Glen Tangier's Dry Cleaner - Donald Phaser
Real Superhero Consultant - Batman/Bruce Wayne
Dialogue Coach - Brett Lerjerjer
Dialogue Towel Boy - Kevin Westerfrogger
Soundtrack on Marble Music
Foot Makeup Design - Rhonda Gherkin
Craft Services - Cynthia's Passable Waffles
Behind the Laughter
[
edit
]
Vindicators: Crystal War is a parody of Avengers: Infinity War.
Appearances
[
edit
]
---