American Breast Enthusiast
Wikisimpsons - The Simpsons Wiki
American Breast Enthusiast
Magazine Information
American Breast Enthusiast is a porno magazine. Judging by the cover, its content consists of photographs of women in poses that show off their breasts.[1][2] It is sold at the Kwik-E-Mart.[3]
History
[
edit
]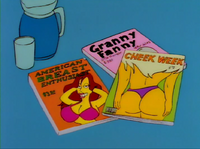 Sideshow Bob slipped away from a prison detail, stole an atomic bomb, and hid out at a nearby Air Force base. When the authorities looked for him at the base they found only some porno magazines: Granny Fanny, Cheek Week and American Breast Enthusiast. When Krusty came over to the base, he said "Hey-hey, this is my kind of meeting!" and looked at one of the magazines.[1]
The magazine is one of many that can be found on Krusty's Magazine Rack.[2]
When asked what Jimbo Jones might have under his cap, Apu said he suspected that he had at least three copies of American Breast enthusiast that he had stolen from the Kwik-E-Mart.[3]
Several copies of Playdude in the show look similar to American Breast Enthusiast.
Appearances
[
edit
]
References
[
edit
]