Drunk Girls Who Signed Waivers
Wikisimpsons - The Simpsons Wiki
Drunk Girls Who Signed Waivers
Movie Information

Drunk Girls Who Signed Waivers is a porn DVD that Homer bought to keep some nuclear regulators happy on a raft trip.
History
[
edit
]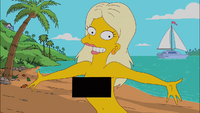 Homer had bought it to keep the nuclear regulators happy on the raft trip. However, he got it mixed up with The Diversity Kittens on Meltingpot Mountain, which he bought for his kids. Bart was watching Drunk Girls Who Signed Waivers until Homer covered up the naked woman on the screen and took the DVD away.
Behind the Laughter
[
edit
]
Drunk Girls Who Signed Waivers is a parody of the infamous pornographic Girls Gone Wild series, where intoxicated women on Spring Break are encouraged to perform exhibitionist or sexual acts on camera, with later sober legal action being prevented by the fact that the women signed legal waivers at the time.
Appearances
[
edit
]