User:Mythigator
Wikisimpsons - The Simpsons Wiki
If I left you a message on your talk page, please reply there as it's easier to follow a conversation when it's all in one place. Thank you!
Mythigator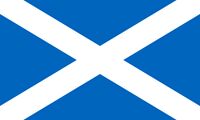 Damn proud of my Scottish roots! SCOTLAND FOREVER!!

User Information
Real name:
Geoff
Birth date:
December 4, 1966
Place of origin:
Montana
Current location:
Seattle area
Languages I speak:
English, Spanish
User rights:
Administrator
Wiki skills:
Article writing and editing in general
Cultural references
Quotes
About Me
[
edit
]
Real first name: Geoff (yep, spelled the English way with a "G")
Nationality: USA, but my Scottish roots run deep
Languages Spoken: English and Spanish
Gender / Age: Male, officially in my 50s but never too old for The Simpsons
Live in the greater Seattle area, originally from Montana
Job: Computer systems analyst at a health clinic
Writer by vocation
Favorite "other" wikis to read and/or contribute: Criminal Minds, Harry Potter, King of the Hill, The Mentalist, NCIS.
My nickname: A portmanteau of "MythBusters" (one of my favorite TV shows) and "Navigator" (which I've used in other forums, such as Yahoo! Answers).
Simpsons merchandise I own
Wiki Facts
[
edit
]
Founder, Project Self Voicers
| | |
| --- | --- |
| | This user has made over 10000 edits to this wiki! |
Edit count breakdown:
4,630 at the Host That Shall Not Be Named
1,908 at ShoutWiki
12,983 and counting at the independent Simpsonswiki
Ongoing Wiki Projects
[
edit
]
Maintain and update Project Self Voicers pages
Re-write the episode summaries for the Season N pages
Create and renovate episodes' Quotes tabs in accordance with the Manual of Style
Replace low-quality JPG images with PNGs (especially if I was the doofus that uploaded the lousy JPG in the first place)
Current Wiki Projects
[
edit
]
The Golden Homer Award


This user was awarded the Golden Homer Award for :
April 2010!
August 2010!
and February 2011!
The Silver Homer Award


This user was awarded the Silver Homer Award for :
September 2010!
November 2010!
July 2011!
August 2011!
and July 2013!
The Bronze Homer Award


This user was awarded the Bronze Homer Award for :
July 2010!
September 2011!
May 2012!
and June 2012!
Favorite Episodes
[
edit
]
Least Favorite Episodes
[
edit
]
Favorite Characters
[
edit
]