Lisa on Ice/References
Wikisimpsons - The Simpsons Wiki
Cultural references
[
edit
]
Besides bearing the derogatory term for "cops", possibly because the head coach is Chief Wiggum, Bart's team name, the Mighty Pigs, is a parody of The Mighty Ducks the title-team of a Disney film series, later turned into an actual team in the NHL.
In the last game, Lisa wear's the head of Bart's Binky stuffed toy around her neck as a lucky charm.
When Lisa is trying out for basketball, the floor is wooden and the walls are shown to be yellow and peach with a brown stripe at the bottom. When Lisa tries out for volleyball, the walls are a deeper color and there is an additional brown stripe, the floor is also not wood and has duct tape on it. Since it is the same building, it may be in different rooms or it is a goof.
Lisa throws a "snowball" at Bart, indicating that it is snowing. However, she is wearing her usual outfit (a dress) which would indicate that it wasn't snowing, but Bart didn't notice this. (It's possible that, while it isn't snowing, Lisa could have been preserving the snowball in some fridge or other cold appliance from some other snow-day)
When the teams crowd into a corner to hit the puck, they are next to the goal. Since the puck was shown going in one direction, it should have been moving away from the net, but it goes into it.
After the game, Homer gives Bart his turtle. After they hug, the turtle disappears.
When Bart hits Lisa with trash, the trash is shown. When Apu sees Bart hitting trash at Lisa, it is missing, so the trash appears to come from nowhere and Bart is shown hitting the ground.
When both Marge, Homer, and Maggie are shown rooting, the order from left to right is Marge, Homer, and Maggie. When Lisa and Bart make up, Marge is shown where Homer was.
Homer signs a large stack of Bart's Academic Warnings, but it isn't possible that Bart has that many classes.
Both halves of the stadium looks like the other half, but with a different color scheme.
For some reason, Marge is shown with the rest of the stadium to be rooting, though she said that she appreciated both of them.
During the closing credits, the theme music is an up-tempo version played on organ, such as might be heard at a hockey arena. (Also heard in "Bart the Lover".)
The clips featured in the Action news opening are from "Oh Brother, Where Art Thou?" (the McBain movie) and "Homer Badman" (Homer S.: Portrait of an Ass Grabber).
Later in the same season, in the episode "Homer vs. Patty and Selma", Lisa is shown to have joined Springfield Elementary School's hockey team as the goaltender.
Snake's prison ID is 7F20, the production code for "The War of the Simpsons", the first episode Snake appears in.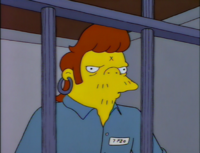 ---