Homer's Evolution couch gag
Wikisimpsons - The Simpsons Wiki
The title of this article is a conjecture.
Though the topic is found within The Simpsons universe, a proper name is not available.
Homer's Evolution couch gag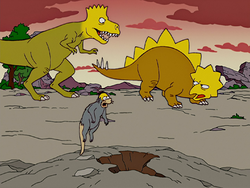 Dinosaur Bart chases Rat Homer

Couch Gag Information
| | |
| --- | --- |
| Duration: | 1 minute, 10 seconds |
| First appearance: | "Homerazzi" |
Homer's Evolution couch gag is one of the longest couch gags ever used on the show. It starts with Homer as a single-celled organism and evolving over time to become the modern-day Homer.
A single-celled organism, resembling Homer, separates into a lot of cells (all of them yelling "D'oh!") and eventually turns into a fish-like creature and swims onto land, avoiding an octopus Mr. Burns who tries to catch him. As it grows legs and turns into a lizard that eats a fly-like Lenny. He walks along and keeps evolving as he sees dinosaurs, one resembling Bart who tries to eat him, and one resembling Lisa, who prevents Bart to eat Homer by snapping him with her tail. Homer continues jumping from tree to tree to become a monkey. He becomes a caveman walking in a snow storm, while a caveman Moe, devolves into a small animal as he walks to the other way. Caveman Homer keeps evolving going through Victorian times and eventually becomes the normal Homer. He gets to his house and sits on the couch, when Marge asks him what took him so long.
Behind the Laughter
[
edit
]
The scenes with the cells multiplying, Homer swimming around like a fish nearly grabbed by an octopus, going on land as an amphibian, the T-Rex fighting a stegosaur, dinosaurs driven to extinction until there are only skeletons around,... all reference the "Rite of Spring" segment in Walt Disney's Fantasia.
There are two versions of this that are no different until the end. When Marge asks Homer what took him so long, in one, he sighs. In another, instead of Marge asking him why it took him so long, she asks him "Did you bring the milk?".
The tyrannosaurus Bart has the roar of the tyrannosaurus from Jurassic Park and stegosaurus Lisa has Godzilla's roar.
Character Appearances
[
edit
]
Appearances
[
edit
]