The Springfield Squares
Wikisimpsons - The Simpsons Wiki
The Springfield Squares
TV Show Information

The Springfield Squares is a game show which features celebrities from Springfield. Kent Brockman is the host. It has been on TV for at least thirty seasons.
History
[
edit
]
The show was once filmed on location at Springfield Harbor, but was interrupted when a tsunami struck. Upper-row guest Barry White invited everyone to take shelter in his square. Everyone took him up on the offer except for bottom-row celebrity Charley Weaver (Cliff Arquette), who tartly said he'd been in that square for nearly thirty seasons and he wasn't leaving. Moments later, the wave struck and Charley was washed away, prompting Homer (who was watching the show on TV) to laugh and say "He's dead now!"[1]
Homer appeared on the show after he temporarily achieved celebrity status by bowling a 300 game at Barney's Bowlarama, and managed to get into a fight with fellow celebrity guest Ron Howard. As the center square, Homer was the first guest to be called on, and he flubbed his lines, forgetting whether he was supposed to read from the "Jokes" sheet or the "Answers" sheet. At this, Kent Brockman ordered taping to be stopped. Ron Howard, in the bottom-center square, urged Brockman to put him into the center square as he was ready and could handle it. Homer retorted, "Dream on, drunkie", and Howard vaulted up into Homer's square and attacked him.[2]
Celebrity Guests
[
edit
]
On location
[
edit
]
When the show was filmed on location at Springfield Harbor:[1]
Homer's guest appearance
[
edit
]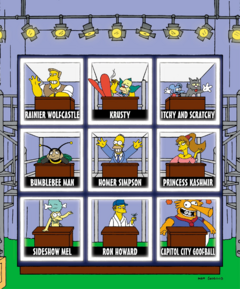 On the episode in which Homer was a guest:
[2]
Behind the Laughter
[
edit
]
Springfield Squares is a parody of Hollywood Squares.
The show's taping being interrupted by a tsunami (in "Krusty Gets Kancelled") is a reference to a real-life incident in 1971 where a taping of Hollywood Squares was interrupted by an earthquake.
Appearances
[
edit
]
References
[
edit
]