Maggie Simpson
Wikisimpsons - The Simpsons Wiki
Margaret Evelyn Simpson Artwork of Maggie by Matt Groening
Character Information

Margaret Evelyn "Maggie" Simpson (born June 16, 1988) is the youngest child of Marge and Homer, and sister to Bart and Lisa. She is often seen sucking on her pacifier and, when she walks, she trips over her clothing and falls on her face. Because she cannot talk, Maggie is the least seen and heard in the Simpson family.
Biography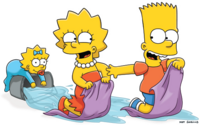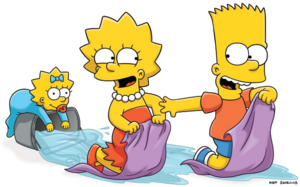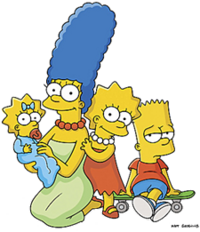 When Marge became pregnant with Lisa, she and Homer bought
their first home
. Seven years later, Homer felt financially secure enough to quit his job at the power plant and take his dream job at
Barney's Bowlarama
. Soon after, Marge became pregnant with Maggie, and unable to support his family, Homer reapplied for his job at the power plant. Homer fell into a deep depression but when he held Maggie for the first time after she was born he loved her at first sight. He keeps all of Maggie's baby photos in his office to cheer him up at work.
Like average babies, Maggie is impressionable and easily influenced by what she sees around her. She once hit her father on the head with a mallet, shot a suction dart at his picture and brandished a pencil in imitation of Itchy and Scratchy. Despite her age, Maggie is a formidable markswoman[2][3] and she shot the fingers off a group of mobsters in rapid succession with a rifle.[4] She was behind the attempted murder of Mr. Burns[3] and she fought Gerald during the St. Patrick day riot, her representing Ireland and Gerald Northern Ireland.[5] When the family's house was being raided by an angry mob, she was able to smash her baby bottle and use it as a makeshift weapon, and she knocked out Russ Cargill, the head of the EPA with a rock when he was about to shoot Homer and Bart with a shotgun.[6]
Maggie is often frightened of her father's attempts to bond with her, even though she does love him. Instead, Maggie shows a much stronger attraction to her mother instead, possibly because Marge is always at home with her while Homer is mostly at work or at Moe's.
She is keenly aware of her surroundings, and can usually be seen imitating the flow of action around her. Like Bart, Lisa and Homer, she is not fond of spending time with her aunts Patty and Selma. It is also known she dislikes Gerald, the one eyebrowed baby very much.
Maggie bears a strong resemblance to Lisa, suggesting Maggie will look very much like her sister when she reaches eight-years-old.
Maggie's first word is "Daddy", something neither Bart or Lisa would call him when they were babies.[7] On another occasion, Maggie's speaks the word "Ya"; a Norwegian word. She also said "Dadily Doodily" when she was in the care of Ned Flanders.[8]
She once felt responsible for not letting Bart watch The Itchy & Scratchy Movie and started to feel guilty due to the Springfield Prison break she caused, ultimately blamed on Bart and got him banned from watching the movie.[9]
Appearance
Like Lisa, her hair is like a starfish. She wears a light blue onesie, matching bow, and a red pacifier. When the Simpsons go to church, she wears a light blue dress hat.
Non-canon
| | |
| --- | --- |
| | The contents of this article or section are considered to be non-canon and therefore may not have actually happened or existed. |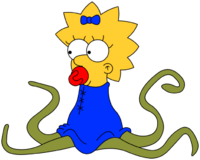 Future
At age 9 during Bart and Lisa's high school graduation, Maggie visits Alaska, hotter because of global warming. At this age she looks exactly like Lisa does currently but still wears her blue bow.[10] At 16 Maggie dresses in a punk-style fashion. It is said she has a beautiful singing voice and, according to Homer, never shuts up (ironically, whenever she tries to speak, she is always interrupted).[11] At some point as a young adult she marries Gerald but finds his constant interruptions annoying.[12] It is unknown if the marriage lasted. At the age of about 30 she gives birth to a daughter named Maggie Jr. who, as a toddler, looks exactly the same as Maggie does now.[13] She is at one point got a DUI ticket and given a breathalyzer test.
Treehouse of Horror
In "Treehouse of Horror V" Homer briefly visits an alternate universe and sees Maggie hit Groundskeeper Willie in the back with an axe. She says in James Earl Jones's voice: "This is indeed a disturbing universe". In "Treehouse of Horror VI" Maggie saves Bart and Lisa from Groundskeeper Willie (as a bagpipe spider) in their dream by clogging his pipe with her pacifier. In "Treehouse of Horror IX", Kang is Maggie's real father and was born as the result of Marge being forced to take part in a cross-breeding program. Maggie starts to grow fangs and her arms and legs are replaced by tentacles. Kang attempts to take her with him but instead appears on The Jerry Springer Show with Homer during which Maggie attacks and kills Springer. At the end the Simpsons manage to keep Maggie but she begins asking for blood in Kang's voice.
The Simpsons: Tapped Out
Default
Maggie
Image
Cost
Unlock method
Unlock message
FREE
Winter 2015
Act 2
You Better Not Cry Pt. 1

---

Winter 2015
Act Maggie Special
Play-Annoyed Grunt Pt. 1

---

Level 26
Play-Annoyed Grunt Pt. 1
Permanent Tasks
| Task | Time | Reward | Requires | Quest with the task | Animated? |
| --- | --- | --- | --- | --- | --- |
| Sneak an Ice Cream | 30m | 60, 15 | Ice Cream Truck | | |
| Watch the Happy Little Elves DVD | 60m | 70, 17 | Brown House | | |
| Catch a Movie | 2h | 110, 27 | Big T Theatre | | |
| Practice Loathing Gerald | 4h | 175, 45 | | | |
| Explore Playdough Factory | 4h | 175, 45 | Playdough Factory | | |
| Worship Ba'al | 4h | 175, 45 | Pagan Bonfire | | |
| Drink Milk at Moe's | 8h | 275, 70 | Moe's Tavern | | |
| Attend Wizarding School | 8h | 275, 70 | Magic Academy | | |
| Dance to Repetitive Children's Songs | 12h | 420, 100 | | | |
| Take a Nap | 24h | 600, 150 | Simpson House | | |
Prairie Maggie
Prairie Maggie
Image
Cost
Unlock method
Unlock message
Costume of
65
Wild West
Premium

Maggie
Bouncing Battle Baby
Bouncing Battle Baby
Image
Cost
Unlock method
Unlock message
Costume of
45,000
Superheroes 2
Issue 3 Prize

Maggie
Permanent Tasks
| Task | Time | Reward | Requires | Quest with the task | Animated? |
| --- | --- | --- | --- | --- | --- |
| Sneak an Ice Cream | 30m | 60, 15 | Ice Cream Truck | | |
| Take a Quick Super Nap | 60m | 70, 17 | Simpson House | | |
| Butt Slam | 4h | 175, 45 | | Little Maggie Had Superpowers Pt. 2 | |
| Squiggle Autographs | 8h | 275, 70 | Android's Dungeon | Little Maggie Had Superpowers Pt. 3 | |
| Attend Wizarding School | 8h | 275, 70 | Magic Academy | | |
| Clean Out the Vents | 12h | 420, 100 | Town Hall | Little Maggie Had Superpowers Pt. 1 | |
| Bounce Around | 24h | 600, 150 | | Little Maggie Had Superpowers Pt. 4 | |
Rockstar Maggie
Rockstar Maggie
Image
Cost
Unlock method
Unlock message
160

---

65

SciFi
Springfield Hyperstadium, Premium

---

Homerpalooza
Springfield Hyperstadium, Premium (Concert Mystery Box)
Permanent Tasks
| Task | Time | Reward | Requires | Quest with the task | Animated? |
| --- | --- | --- | --- | --- | --- |
| Rock the Hyperstadium | 60m | 105, 26 | Springfield Hyperstadium | Dial M for Maggie Pt. 5 | |
| Download Vocal Enhancements | 4h | 260, 70 | Springfield Hyperstadium | Dial M for Maggie Pt. 3 | |
| Overpay for Sex on the Beach | 4h | 260, 70 | Smooches on the Beach | | |
| Stay at the Swelldorado | 4h | 260, 70 | Swelldorado | | |
| Try to Win at Blackjack | 4h | 260, 70 | $ Casino | | |
| Drink and Babysit | 4h | 260, 70 | The Boiled Potato | | |
| Suck on her Pacifier | 8h | 420, 105 | | | |
| Dance the Señor Burns | 8h | 420, 105 | Chez Guevara | | |
| Cross the Firmament | 10h | 525, 135 | Elysium Project | | |
| Rock Out | 12h | 600, 150 | | | |
| Party | 24h | 1,000, 225 | Brown House | | |
Star Snowsuit Maggie
Star Snowsuit Maggie
Image
Cost
Unlock method
Unlock message
Costume of
74,950

---

50

Winter 2016
Sacrifice Your Sheep to Odin, Act 2 Prize

---

A Rigellian Christmas Promo and The Invasion Before Christmas
Premium (Winter Wonderland Mystery Box)


Maggie
Outlands Maggie
Behind the Laughter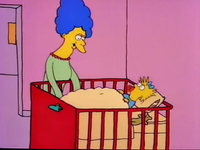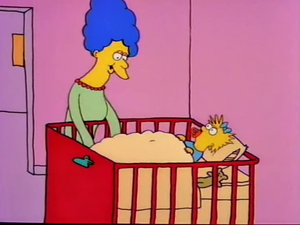 Matt Groening first conceived the Simpson family in the lobby of James L. Brooks' office. He had been called in to pitch a series of animated shorts, and intended to present his Life in Hell series. When he realized animating Life in Hell would require him to rescind publication rights for his life's work, Groening decided to go in another direction.[14] He hurriedly sketched out his version of a dysfunctional family, and named the characters after various members of his own family. Maggie was named after Matt Groening's younger sister Margaret "Maggie" Groening. She often sucked on a pacifier and wore a sleep suit, two traits Groening used for Maggie. Maggie made her debut with the rest of the Simpsons clan on April 19, 1987 in the Tracey Ullman short "Good Night".[15] Groening thought it would be funny to have a baby character who did not talk and never grew up, but assigned any emotions the scene required. Her comedic hallmarks include her tendency to stumble and land on her face while attempting to walk (though this has been downplayed in later seasons), and a penchant for sucking on her pacifier, the sound of which became the equivalent of her catchphrase and was originally created by Groening during the Tracey Ullman period, and by Nancy Cartwright during the regular series.
During the show's opening credits, Maggie is run through a supermarket checkout scanner, which reads she is worth $847.63 (a reference to the monthly cost of infant-rearing in 1989). In "The Simpsons 138th Episode Spectacular," the scanner instead reads "NRA4EVER," a reference to the running joke the show's creators are right-wing radicals. In the newer episodes her price changed to $486.22 (because there had been 486 episodes broadcast as the end of season 22).
Voice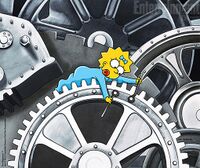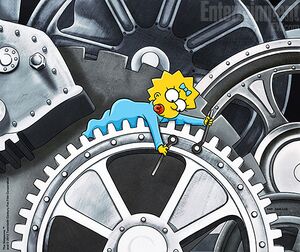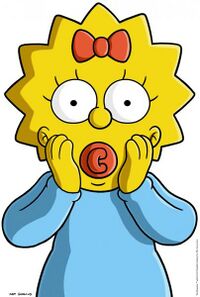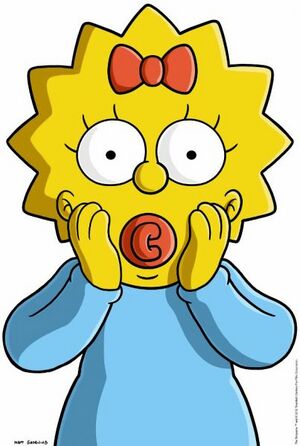 With few exceptions, Maggie never speaks but is very participatory in the events around her, emoting with subtle gestures and facial expressions. Maggie spoke in "Good Night", the first short to air, after the family falls asleep. On this occasion, Liz Georges provided the voice of Maggie. In "Bart vs. Thanksgiving", Bart has a vision of what could happen if he returned home after destroying Lisa's centerpiece. In this vision, Maggie says to him telepathically: "It's your fault I can't talk!".
Maggie's first word spoken in the normal continuity of the series occurred in "Lisa's First Word", when she was voiced by Elizabeth Taylor. Elizabeth Taylor's performance as Maggie was named the 13th greatest guest spot in the history of the show by IGN. James Earl Jones, who voiced Maggie in Treehouse of Horror V was in seventh place. She would later have brief dialogue in Treehouse of Horror IX, voiced by Harry Shearer, who used his Kang voice. In earlier episodes, Yeardley Smith did many of Maggie's squeaks and occasional speaking parts, although in later seasons her parts were done by Nancy Cartwright. Although she spoke many times, she only had two canonical speeches real within the series. Her first canon speech was in Lisa's First Word, and this word was "daddy" (as both Bart and Lisa grew up calling Homer his given name), however only the viewers and not the family heard her say this (At least until the Father's day Clip show). Her second speech was in Coming to Homerica. This time the family did hear her speak.
According to The Simpsons Movie, the first word the family heard Maggie say was "sequel?", in the ending sequence (unless one counts the Father's Day clip show as being canon).
Maggie also said some thing in Four Great Women and a Manicure when on she is in the court, though this is non-canon since it was a story told by Lisa.
Heroism
Maggie saved people's lives on a few occasions. Maggie saved Bart and Lisa from Groundskeeper Willie in Treehouse of Horror VI and she saves Homer from being killed by gangsters by shooting them down in Poppa's Got a Brand New Badge. Maggie even saved her arch-enemy, Gerald from floating into space in a Simpson comic story called Maggie Simpson: Bringing Down Baby. Maggie saved Homer a second time on The Simpsons Movie from Russ Cargill by smashing him in the head with a boulder. Homer also said "What a great little accident you turned out to be", referring to the fact she was conceived at a time none of her parents intended to, and she also saved him from drowning.
Foreign dubs
Trivia
Maggie also seems to have a possible high intelligence (for a baby at least). Examples include being able to handle a weapon, she was seen dancing very well, and she said her first word at the age of one. (Lisa's first word was when she was 2) .
Appearances
This article or section is incomplete.


Please improve the article, or discuss the issue on the talk page.

References
External links
Simpson family
Main family

Homer Simpson
•

Marge Simpson
•

Bart Simpson
•

Lisa Simpson
•

Maggie Simpson

Santa's Little Helper
•

Snowball II
Factfiles from Simpsons World the Ultimate Episode Guide: Seasons 1-20
Season 14
Rock Stars • Audrey McConnell, Third Grade Teacher • Dr. Velimirovic, Plastic Surgeon • Mitch Hartwell, the Reality Channel Producer • Junior (AKA Frank Grimes, Jr.) • Teacher of the Year Award Nominating Committee • Dexter Colt, Private Eye • The Mugger • Larry H. Lawyer, Jr. • Baby Stink-Breath • Booberella • Sara Sloane, Hollywood Movie Star • Cookie Kwan, Red Coat Realtor • Stark Richdale • Declan Desmond • Julio and Grady • Luke Stetson, Junior Wrangler • Suds McDuff, Spokesdog/Mascot for Duff Beer • Marriage Counselor • Jim Proudfoot • Don Castellaneta
---