The Book Job/References
Wikisimpsons - The Simpsons Wiki
Cultural references
[
edit
]
There is no opening sequence in this episode, making it the second episode in a row to not have one.
When The Troll Twins of Underbridge Academy is publishing, "The Troll Twins of Underbridge Academy" is at the top of the first page of Chapter 1, meaning that viewers can tell that it is the Troll Twins book, and not the Vampire Twins book.
Continuity
[
edit
]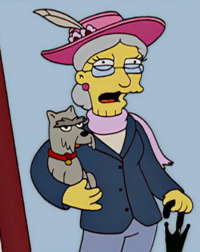 T. R. Francis was depicted in "The Haw-Hawed Couple" as an old lady. In this episode she is middle-aged.
The people at Sitting with Dinosaurs move places a couple of times.
During the scenes with The Crew in the TweenLit Inc. headquarters, the times on their watches change frequently.
When the TweenLit Inc. publisher is talking about the audio book, the shade of white on his coat changes.
In Moe's Tavern when Neil Gaiman is trying to wake everyone up, the Mapple logo on Moe's laptop is upside-down.
When Lisa is pacing behind her desk thinking of an idea for her novel, and then comes up with an idea that turns out to be the premise of "The Little Mermaid", she yells in frustration - and her laptop has disappeared from her desk, with the desk now clear. The camera pans out to show that a printer has suddenly appeared on the desk.
---