Google
Wikisimpsons - The Simpsons Wiki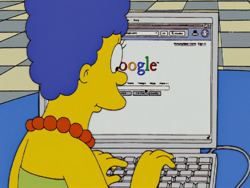 Google is an online search engine.
History
[
edit
]
When Marge began surfing on the web, she googled herself, and found out she had 629,000 hits. The first result had the headline "Marge Simpson - Springfield Folk Artist" and goes to www.springfieldfolkart.com/sculpturers/popsicle/lame.html, a domain not owned by Fox.[1]
Mr. Burns has an app on his MyPad called "Google Naps".[2]
Lisa found out using a basic Google Search that the Lichtenslavian national dance is not the Macarena.[3]
Non-canon
[
edit
]
| | |
| --- | --- |
| | The contents of this article or section are considered to be non-canon and therefore may not have actually happened or existed. |
In the future, Google is still the best search engine, but it has enslaved about half of the world. A Google for Google is available on the Ultranet.[4]
The Simpsons: Tapped Out
[
edit
]
When Gypsy asks Lisa where she learn about GOO, she answer her it was Google.[5]
Mr. Plow Homer says to Quimby he can check on Google if he already gave him the key to the city.[6]
Behind the Laughter
[
edit
]
Google is a real website and the most popular online search engine in the world.
Google Naps is a parody of Google Maps.
Appearances
[
edit
]
References
[
edit
]
External links
[
edit
]
---