Flu Fighters
Wikisimpsons - The Simpsons Wiki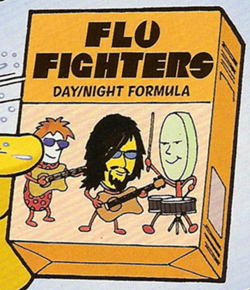 Flu Fighters is a medication for treating cold and flu symptoms.
Description
[
edit
]
Apu has Flu Fighters for sale at the Kwik-E-Mart. The medication's packaging depicts an anthropomorphized tablet as a drummer in a rock band. According to the labeling, Flu Fighters can be used both during the day and at night.
History
[
edit
]
A man who had the flu came to the Kwik-E-Mart to buy a package of Flu Fighters. Just as he was about to pay, Snake burst into the store brandishing a pistol and took both the man's wallet and the package of Flu Fighters he was going to buy.
Two days later, as a flu epidemic was sweeping through Springfield, Rev. Lovejoy was seen in the waiting room of Springfield General Hospital giving Flu Fighters to several parishioners from the First Church of Springfield.
Behind the Laughter
[
edit
]
The medication's name is a pun on the alternative rock band Foo Fighters.
Appearances
[
edit
]
---