Battling Seizure Robots
Wikisimpsons - The Simpsons Wiki
Battling Seizure Robots
TV Show Information
Battling Seizure Robots (戦闘ロボットシージャー Sentou Robotto Shījā) is a Japanese TV show that the Simpsons saw while vacationing in Japan.
History
[
edit
]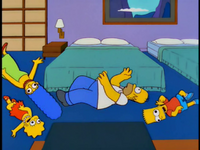 Bart noticed the show on TV and asked, "Isn't that show supposed to cause seizures?" Immediately afterwards, his pupils dilated and he was babbling and rolling on the floor, having a seizure. Lisa and Marge quickly followed. Then Homer entered the room and didn't know what was up with everyone rolling on the floor and babbling incoherently, but he figured that he would go along with it, so he started rolling and babbling on purpose. When a commercial came on, everyone's seizures stopped. When the show resumed, so did the seizures, this time also affecting Homer.
The show seems to be about giant robots battling each other. The flashes from their weapons cause the seizures.
Non-canon
[
edit
]
| | |
| --- | --- |
| | The contents of this article or section are considered to be non-canon and therefore may not have actually happened or existed. |
The Simpsons: Tapped Out
[
edit
]
This section is transcluded from The Simpsons: Tapped Out characters/Robots. To edit it, please edit the transcluded page.

Behind the Laughter
[
edit
]
Battling Seizure Robots is a reference to an early Pokémon episode, "Computer Warrior Porygon." During its original airing in 1997, the episode caused 685 children in Japan to have seizures. The episode was banned by the Japanese government and has never aired anywhere else in the world.
The show could also be considered a reference to Transformers and the anime series Gundam.
The Battling Seizure Robot makes an appearance in the Nintendo DS version of Big Super Happy Fun Fun Game. It is summoned by Homer to finish off a Sparklemon.
Appearances
[
edit
]