...The Permanent Record Room!
Wikisimpsons - The Simpsons Wiki
...The Permanent Record Room!
Comic Story information
...The Permanent Record Room! is a Simpsons Comics story featured in Simpsons Comics #75, released in October 2002.
"How d'you say "taco" in Mexican?"

This section is in Engrish.
Please correct the article, or discuss the issue on the talk page.
Principal Skinner
is with
Willie
in the permanent record room, Skinner begins to tell a story for Willie.
Pranks, But, No. Pranks!
[
edit
]
Willie is sleeping on the floor of his shack and get bitten by a spider. He wakes up and discovers he is in the ceiling and think he's got superpowers. It turns out that Bart has glue all the furniture in schack up and down. Bart's class gets visit from Groundskeeper Seamus, which tells the story of St. Patrick's Day when Willie flies in through the window. Bart says to Willie that they get attacked by a green goober and points to Seamus who have painted himselves green and the two begin to fight. Bart tells Milhouse that he also got Martin to fix Skinner's phone so every time he says a word, he gets an electric shock which makes Skinner irritated, but he does not know who is behind the prank. Willie and Seamus continues to fight in the schoolyard and Skinner try to avert them. Bart tells Milhouse that he fills a natural desire in the life and shows what would happen if he quits with the pranks, he would become a victim of pranks. Milhouse asks Bart if it is so that they can not become mad for his panks, this hear Seamus, Skinner and Willie and them decides that they should dust eraser boards, and write on the board.
Skinner is visiting by his mom and he starts telling a story which happened a few years ago for her.
And the Beatings Go On!
[
edit
]
James Jones starting in Springfield Elementary School and he ends up in Edna's class, a class where everyone is a nerd. They begin to bully him because he can't anything, Jimbo is not happy about the new school. Bart tells him that this is nerdtown. After school, Jimbo meets Kearney and Dolph and understand at they hate the school too and trying to figure how to get revenge, Bart overhears and asks if they can not just bet them down. Jimbo goes with his new buddy to the bike rack where the nerds waiting for Jimbo, but he have now a new style and the nerds are not dare to bully them and gets knocked down and robbed of there money, Bart even though he helped them with the idea.
Skinner get visited by Chalmers, which tells a story from the past.
Truant or False?
[
edit
]
Homer begin his first day in fourth grade, he meets a new friend on the way, Homer wants to go to school but the new friend don't want it, so they go to Noiseland Arcade before Mom's Malt Shoppe where the friend tell to Homer that he knows where a treasure is. Homer gets the assignment to dig up the treasure while the friend is watching, the treasure is a time capsule to be opened year 2052, the friend takes care of the capsule to 2052. Homer then tries to school but is persuaded by the friend to go with him to Yukingham Palace while Krusty is there. Krusty complaining thre that he had depilatories in his squirting flower and accidentally spray away Homer's hair. Homer went to school after he realized that friend just ruined his day. Homer still thought school was boring and lost interest after a few minutes.
Chalmers says that friend grew up to be a vampire but Skinner interrupts and he grew up to him. Willie came in to clean the room so Skinner and Chalmers leaves the room. Willie begins to tell a story.
What About If ... Skinner Was Scottish?
[
edit
]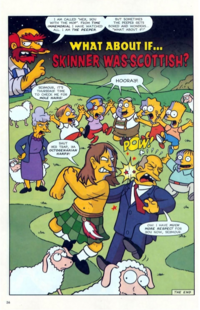 If Skinner were Scottish, Willie belive Skinner Would he punch Chalmers and get more respectability.
Reprints
[
edit
]
---