Whacking Day
Wikisimpsons - The Simpsons Wiki
This article is about the holiday. For the episode, see Whacking Day.
"Everyone likes Whacking Day, but I hate it. Is there something wrong with me?"
―Lisa
"Yes, honey."
Whacking Day is a local holiday in Springfield which calls for the townspeople to beat snakes to death with sticks.
History and tradition
[
edit
]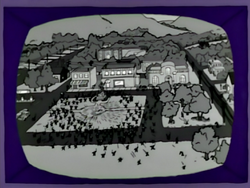 It reportedly dates back to founding father Jebediah Springfield, who whacked his first snake in 1775.
During Whacking Day, which takes place the 10th of every May, the citizens of Springfield drive all snakes to the center of the town and proceed to whack them to death with sticks. The event has included several notable figures as grand marshals, including President Richard Nixon and singer Barry White.[1] The holiday has become so popular in Springfield that sales surround the event, and specialized sticks, called whacking sticks, have been created for the sole purpose of whacking snakes on the day.[1] Schools in Springfield are closed in observance on Whacking Day. Still, Springfield's Chamber of Commerce no longer recognizes Whacking Day as an official holiday,[2] and whacking snakes has since been outlawed.[3]
The barbaric nature of Whacking Day has drawn criticism, being called "distasteful and puerile" even by hillbillies.[1]
There have been some discrepancies uncovered in the history of Whacking Day: Jebediah Springfield lead a battle at Ticonderoga on the same day he is supposedly credited with founding the holiday. Also, according to the book The Truth About Whacking Day by Bob Woodward, Whacking Day was created in 1924 as an excuse to beat up the Irish. One Irishman who survived the event recounts that "twas was all in good fun".[1]
The Simpsons: Tapped Out
[
edit
]
| | |
| --- | --- |
| | The contents of this article or section are considered to be non-canon and therefore may not have actually happened or existed. |
This section is transcluded from The Simpsons: Tapped Out decorations/Whacking Day decorations. To edit it, please edit the transcluded page.

Whacking Day Banner
Image
Cost
Reward
Sell price
Conformity increase
Availability
Unique?
Dimensions -

D

x

W

1,000
105
Vanity +180
Whacking Day 2013 and 2016
1 x 6
Springfield's Chamber of Commerce doesn't recognize Whacking Day as an official holiday.[2]
Behind the Laughter
[
edit
]
Whacking Day recalls the legend of St. Patrick banishing all snakes from Ireland.
Appearances
[
edit
]
References
[
edit
]