ChoreMonkey
Wikisimpsons - The Simpsons Wiki
ChoreMonkey
MyPad App Information
ChoreMonkey is a services app that employs people to come and do tasks for the user.
History
[
edit
]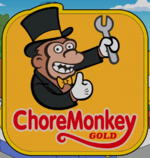 Barney used ChoreMonkey to order beer and toilet paper to be delivered to him. He also told Homer about the app.
Homer started using the app for everything to make his life easier. He employed Blake to talk Marge down when she was angry at him and hired Matt Leinart to be a father figure to Bart. When he got jealous of Bart and Matt Leinart's relationship, he employed Tyler to be like a son to him, but it didn't end well and Tyler blacklisted the Simpsons.
Homer stopped using the app when he realized he had to pay for everyone.[1]
It's one of the apps installed on Homer's[2] and Lisa's phones.[3]
ChoreMonkey Gold
[
edit
]
ChoreMonkey Gold is a premium version of ChoreMonkey. The difference between it and the regular app is that you won't get any convicts using ChoreMonkey Gold.
Behind the Laughter
[
edit
]
ChoreMonkey is a parody of TaskRabbit.
Appearances
[
edit
]
References
[
edit
]