The Gorge in the Gorge
Wikisimpsons - The Simpsons Wiki
The Gorge in the Gorge is "the triple crown" of binge-eating contests, featuring a trio of pie, hot dog and oyster. Held at Springfield Gorge, the competition was hosted by Krusty, with Comic Book Guy, Homer Simpson and Clancy Wiggum competing.
History
[
edit
]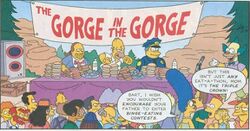 The competition was fast paced, with the large audience being largely shocked by the sight of the competitors eating, including Seymour Skinner, who thought it was more disturbing then the things he saw in Vietnam, and Edna Krabappel wondering if you could "legally use that orifice".
Being egged on by Bart, Homer ploughed through the food, while Comic Book Guy hit a stumbling block when his shuckling fork broke ("the greatest tragedy since John Bryne's "Spider Man: Chapter One!") and Wiggum removed his gun holster, handing it to Snake, as it was "cutting into the old waistline".
Homer, full, has one last hot dog to eat. Persuaded by imaginary animals (a pig, rat, platypus and cow), he gulps down the last dog, then suddenly passes out. Krusty names him "Glutton of the Year", before running off to Springfield University to receive an honorary doctorate. Meanwhile, Doctor Hibbert examines Homer, and reveals, "in layman's terms", that his brain has exploded.
---