Inside the Actor's Studio
Wikisimpsons - The Simpsons Wiki
Inside the Actor's Studio
TV Show Information

Inside the Actor's Studio is a talk show hosted by James Lipton. It is aired on Tube Town.
The format of Inside the Actor's Studio is that Lipton interviews his guests (actors, directors, screenwriters, etc.) about their work in an informal and conversational style so that the audience can gain some behind-the-scenes insight into what happens in the making of a movie or TV show. Sometimes he deliberately provokes the guests in order to get them to talk.
History
[
edit
]
F. Murray Abraham
[
edit
]
While the Simpsons were driving home from Bloodbath Gulch, Grampa said that he needed to go to the toilet. Homer, however, was unwilling to take the time to stop as he didn't want to miss Inside the Actor's Studio because F. Murray Abraham was going to be on it.[1]
Rainier Wolfcastle
[
edit
]
Lipton once had Rainier Wolfcastle as a guest on his show and asked him if they could see McBain. Wolfcastle complied and went into character as McBain, but the interview ended badly as Wolfcastle in character thought that Lipton was McBain's arch-enemy Mendoza and shot Lipton. Ever the gracious host, however, Lipton said, "It was a pleasure to eat your lead, good sir!" as he collapsed.[2] At the time, it appeared that Lipton was mortally wounded, but he survived the shooting, recovered and continued hosting his show.
The Thicker than Waters Cast

[

edit

]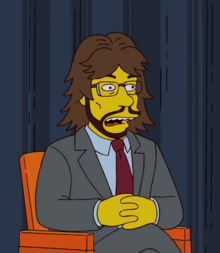 Lipton later interviewed the cast of the 1980s hit family sitcom
Thicker than Waters
. He asked
Rebecca
, the actress who played
Lizzie Waters
, if they would be seeing "The Lizzie" during the interview, referring to the hairstyle Rebecca wore on the show which spawned a fashion craze of girls getting their hair done in "The Lizzie". Rebecca got angry and emphatically reminded him that she had already said she would not be recreating the hairstyle for the interview. Undeterred, Lipton said the hairstyle was indeed there for the interview. He then put on a "Lizzie" wig and did a mocking impression of a scene where Lizzie had a prom date with a boy in a wheelchair. Rebecca refused to rise to the bait and didn't say anything else. However, the tactic did produce some results as
Digby Sheridan
, who played
Patrick Waters
, spontaneously admitted to having slept with "everyone in the cast - including the dog."
[3]
Behind the Laughter
[
edit
]
Inside the Actor's Studio is an obvious borrowing from James Lipton's real-life show, Inside the Actors Studio (spelled without an apostrophe), which has been airing on Bravo since 1994. The formats of the real-life show and its Simpsons counterpart are very similar to each other.
Appearances
[
edit
]
References
[
edit
]
See also
[
edit
]
---