The Little Universe
Wikisimpsons - The Simpsons Wiki
| | |
| --- | --- |
| | The contents of this article or section are considered to be non-canon and therefore may not have actually happened or existed. |
The Little Universe
Location Information

The Little Universe is a microscopic world accidentally created by Lisa Simpson.
History
[
edit
]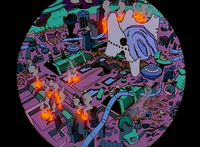 Lisa wanted to do an experiment of the effect of Buzz Cola on a human tooth for the school science fair. She placed her baby tooth in a plastic tub and filled it with cola. Bart then showed Lisa his "science project", using static electricity from a balloon to prove that "nerds conduct electricity". After Bart shocked Lisa, Lisa managed to transfer the static electricity to her tooth. The combination of the tooth, cola, and static electricity created life.
The next morning, Lisa woke up to find that a caveman civilization was living in the mold around her tooth. After this, society started to progress extremely quickly. By the time Lisa had finished breakfast, they had reached the Renaissance age. Eventually, the technology in The Little Universe had become greater than that of Earth.
Bart entered Lisa's room and began to mess with her and her science project, poking it with his finger. This left the city in ruins and greatly angered the people of The Little Universe. That night, they left their universe in spaceships and attacked Bart. Bart got angry over this and tried to destroy the Little Universe, but was stopped by Lisa. Bart then told Lisa that she couldn't protect it forever and that he would eventually flush it away.
Shortly after this threat, the people of The Little Universe had created a shrink ray and used it to shrink Lisa down into the city. The people told Lisa that they thought of her as their god, and Bart was the devil. The people were then shocked to learn that Bart was Lisa's brother. Lisa then asked to be un-shrunken, which the scientist said was impossible. At that point, Bart returned and took The Little Universe. Bart then entered The Little Universe into the science fair as his own project and won, which annoyed Lisa. Lisa then told her subjects to get her some nice shoes.
The inhabitants of the tooth world are human-like people with blue hair and skin. They speak English after hearing Lisa speak "through the ages". They worship Lisa as their god and Bart as the devil.
One of the inhabitants is called Bill Watson.
Appearances
[
edit
]