The Gabbo Show
Wikisimpsons - The Simpsons Wiki
"I'm a bad wittle boy."
―Gabbo on The Gabbo Show
The Gabbo Show
TV Show Information

The Gabbo Show is a show starring the puppet Gabbo and his puppeteer, Arthur Crandall.
History
[
edit
]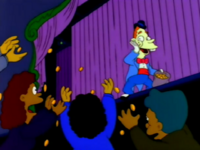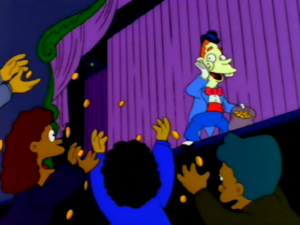 An advert of the show, just saying "Gabbo, Gabbo, Gabbo" came on after watching an episode of Springfield Squares. The whole of Springfield wanted to know what it was, even having a segment on Channel 6 News about it. When the proper advert came, it was revealed that it would be in the same time slot as The Krusty the Clown Show.
After the first episode of The Gabbo Show, The Krusty the Clown Show dropped in ratings. The next episode of his show, Krusty also tried ventriloquism but didn't do too well. Gabbo's ratings increased while Krusty's decreased to the point of getting canceled.
Description
[
edit
]
Gabbo, under the control of Arthur Crandall, usually says funny things. He then gets up, dances, does impressions, throws money out to the audience and travels back in time.
The Gabbo Show also started to show The Itchy & Scratchy Show, taking it from The Krusty the Clown Show. Gabbo also crank calls people, another bit stolen from Krusty, although Krusty stole it from Steve Allen.
Controversy
[
edit
]
After Bart turned filming of the show back on, Gabbo was heard saying "all the kids in Springfield are SOBs". This caused a great outrage and many didn't think he deserved a place on TV after this. However, Gabbo still held his popularity.
Appearances
[
edit
]
---